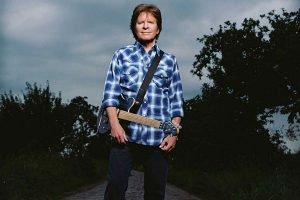 By GENE STOUT
Though John Fogerty grew up in El Cerrito, Calif., his music has always had a Southern flair.
His early success with Creedence Clearwater Revival left many listeners with the impression that Fogerty had been born on the bayou, as one of the band's biggest hits of the late 1960s suggested.
Performing Friday night (July 20) at Chateau Ste. Michelle, the veteran rocker reminded a sold-out crowd of his love of all things Southern with a suite of classics from his musical arsenal: "Born on the Bayou," "My Toot Toot," "Jambalaya (On the Bayou)," "New Orleans" and "Down on the Corner."
Now 73, Fogerty was like a man on fire during the raucous, energetic concert, the second of two shows he performed for this year's summer concert series at the Woodinville winery. His guitar playing was first-rate, and the sheer exuberance of his performance brought the crowd to its feet the moment he and his backup group launched the evening with "Travelin' Band," the first of many CCR songs in the set list. Fogerty dashed across the stage like a man half his age, whipping up an infectious frenzy with his raspy vocals and wild guitar licks.
On "Rock and Roll Girls," Fogerty played the same Rickenbacker guitar he used at Woodstock in 1969, a guitar that had been missing for 40 years.
Among those backing him were sons Shane Fogerty on guitar and Tyler Fogerty on vocals (and sporting a bright-red suit) for "Good Golly Miss Molly" and The Sonics' "Psycho," the Northwest rock classic.
In addition to Fogerty's sons, other notable band members included keyboardist Bob Malone and saxophonist Nathan Collins, one of several horn players in the band.
The show was peppered with CCR classics: "Who'll Stop the Rain," "Up Around the Bend," "Green River," "Have You Ever Seen the Rain," "Lookin' Out My Back Door," "I Heard It Through the Grapevine" and others.
Fogerty played "Holy Grail," his raucous collaboration with Billy Gibbons of ZZ Top, and "Love and War," a tribute to U.S. veterans that he recorded with country singer Brad Paisley.
"Centerfield," Fogerty's hit song from 1985, was a highlight of the latter half of the show — a sure-fire singalong that turned into a rollicking celebration of Fogerty's long career.
Fogerty and company wrapped up the concert with an encore featuring the Southern-fried "Bad Moon Rising" (while the moon rose in the night sky) and a rambunctious "Proud Mary."