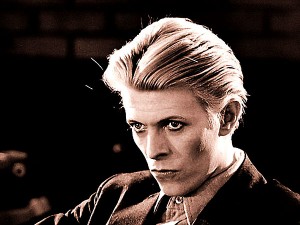 By GENE STOUT
The news of David Bowie's death brought an outpouring of reminiscences from fellow artists, fans and music writers.
Below is the complete text from my preview of his October 1995 concert with Nine Inch Nails at the Tacoma Dome. Bowie was engaging, good-humored and eager to talk about his 1995 album, "Outside," which explored "outsider art" and "malevolent ideas of what is and what isn't art." The album reunited Bowie with innovative producer Brian Eno, his collaborator on the brilliant, late-'70s albums "Low" and "Heroes":
BOWIE BEFUDDLES AND BEWITCHES AS HE DANCES ON THE FRINGE

By GENE STOUT — P-I POP MUSIC CRITIC
COMING UP: David Bowie (with Nine Inch Nails and Prick). Rock concert Tuesday night at 7:30 at the Tacoma Dome. Tickets $28.50 at Ticketmaster.
Score another win for David Bowie, the chameleonlike rock star/actor who deftly maneuvered through the '70s and '80s with equal parts commercial savvy and avant-garde brilliance.
Last week, Bowie's new album, "Outside" (Virgin Records), made an auspicious debut on The Billboard 200 album chart at No. 21 — helping to erase the memory of his 1993 flop, "Black Tie, White Noise."
"My highest entry on the Billboard chart was in 1983 with 'Let's Dance,' which went in at No. 33 and then crawled its way up," Bowie said by phone from Washington, D.C.
"This one went in at 21, so I am absolutely ecstatic. It's a validation that some complicated stuff can still get a space."
Complicated stuff indeed.
"Outside," which takes its title from the phrase "outsider art" — i.e., art produced by untrained, often reclusive artists outside the mainstream — reunited Bowie with innovative producer Brian Eno, his collaborator on brilliant, late-'70s albums "Low" and "Heroes."
"Outside" focuses on the "art-ritual" murder of a mythical adolescent, Baby Grace Blue, whose corpse is ghoulishly exhibited by her mysterious "artist/assailant" — an outsider artist in the extreme.
Bowie — on a six-week tour with immensely popular alternative/industrial band Nine Inch Nails that includes a concert Tuesday night at the Tacoma Dome — for years has been fascinated with the visual arts, particularly its unfathomable fringe.
"I have a bit of an obsession about it," said the 48-year-old London-bred musician.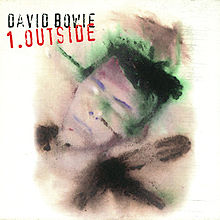 The notion of "killing for art" has been floating about at least since the 1820s, when English essayist Thomas De Quincey wrote "On Murder Considered As One of the Fine Arts." Years later, French author and critic Andre Breton suggested that firing a gun into a crowd might yield a worthy work of art.
"There were these strange sort of malevolent ideas of what is and what isn't art. I just kind of ran with that a bit," Bowie said.
While in Philadelphia recently, Bowie visited an art gallery to view an exhibit on serial killers.
"The artist made a presentation of photographs of the knives and scalpels and all the implements of a serial killer, plus all the body parts, the body bags – the whole thing was presented as an art piece … I find it just fascinating what people will do," Bowie said with a hearty laugh.
The concept of "Outside" — an alternately ponderous and exhilarating Euro-dance record that comes up a little shy on hooks — began to take form last year when Bowie and Eno toured the Gugging psychiatric hospital near Vienna and interviewed its artist/inmates.
"The stunning, rather cold atmosphere of the place is overwhelming," he said. "You have to drive past the regular asylum before you get to their wing, which is completely covered in paint. They've painted every nook and crevice, the walls, all the trees outside. Everything that's standing and still, they've painted."
The inmates at Gugging were as inspiring to Bowie and Eno as they were bizarre.
"The feature that really struck us was the fact that these guys paint without any feeling of judgment," Bowie said. "They don't subscribe to any school. Nobody there is going to say, 'Oh, the cubists were wrong.' They don't care. Whatever they feel is what they paint."
Bowie and Eno tried to bring that feeling of freedom and spontaneity into the studio for the recording of "Outside."
Besides Eno, on synthesizer and digital sampler, band members included several other longtime Bowie collaborators: guitarist Reeves Gabrels, who was in Bowie's '80s band, Tin Machine; pianist Mike Garson, and guitarist Carlos Alomar.
"The first thing we did was get all the musicians together and make them redecorate the studio," Bowie said with a gleeful laugh.
"They got into it so much that it was hard to get them into the music. What it did was give the whole thing a sense of play, which is a part of real freedom of expression."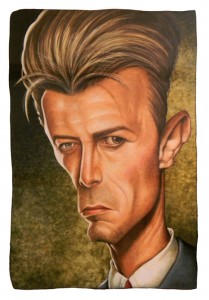 Bowie calls the album a "textural document" of the mid-'90s using narrative and characters. The grim tale of Baby Grace Blue is a musical allegory about the end of the century.
"She represents the killing off of the 20th century and possibly the ideals and the youth and innocence that go with that," he said.
Bowie's dream is to complete several similar albums documenting the '90s. The last line in the album's "diary" is "To be continued. …"
"It would be so wonderful to have a kind of four- or five-volume diary of the last few years of this century," he said. "Whether it's a success or failure, the fact is we'll have done it."
Bowie — a fan of innovative theater artist Robert Wilson, who along with Philip Glass created "Einstein on the Beach" — is even considering a special theatrical or musical event to commemorate the millennium.
" 'Einstein on the Beach' is one of the most stupendous pieces of modern theater I've seen," he said. "I would just be over the moon if I could entice Wilson to help us put it together as a piece of what he calls 'epic monumental theater.' It would be just cool."
Teaming up with Nine Inch Nails, one of the year's hippest bands, was a shrewd move for Bowie, whose ability to draw huge numbers of concertgoers in the '90s is uncertain.
"Virgin (Records) said they would like me to support the album (with a tour)," Bowie explained. "I said I wanted to very much indeed, but that I would like to take a very unorthodox approach to it. I wasn't about to do a classic-hits type of tour again."
Read the New York Times obituary here.