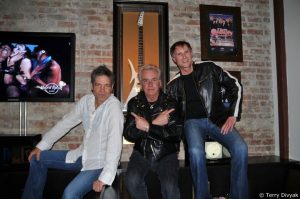 Guitarist Howard Leese and fellow Heart alumni Roger Fisher and Steve Fossen got together for a festive dinner last Friday (May 7) at the Seattle Hard Rock Cafe — and not just because they like the barbecue ribs and shots of Jagermeister.
The Heart guys and their wives, girlfriends and colleagues gathered to check out the large display of Heart memorabilia in the dining room. Among the items is a custom-made guitar by Bernie Hamburger, who is known for his unusual designs.
Leese used the wild-looking guitar, which features skull-and-crossbones tuning pegs, on the band's "Bad Animals" tour in 1980s. Here's a link to a blog about the guitar on the Hard Rock Cafe Web site.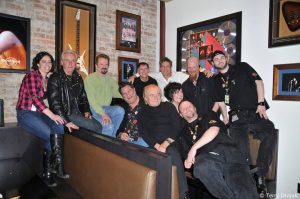 In addition to Heart, led by Ann and Nancy Wilson, Leese has played with Bad Company, Paul Rodgers and other bands. Guitarist Fisher and bassist Fossen were founding members of Heart, which today is led by sisters Ann and Nancy Wilson.
The dinner party included Alan White of Yes and John Lennon's Plastic Ono Band (and White's wife, Gigi), singer Somar Macek (Fossen's significant other); former Heart manager Ken Kinnear, photographer Geoffrey "Grib" Gribbin and Gary Draper of RockTheBlues.com, among others. Organizer of the dinner was Ann Catherine Ice of AC ICE Rockstar PR. The Wilson sisters were not present.
Heart rose to fame in the '70s with such hits as "Crazy on You," "Barracuda" and "Magic Man." During the dinner, concert footage from past Heart concerts played on the video screens at the Hard Rock. It wasn't long before diners, including several tables of high school students in prom-night attire, began asking the assembled musicians for autographs.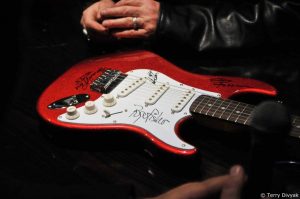 Leese, Fisher, Fossen and White signed a new Fender Starcaster guitar for a future benefit at the Hard Rock.
The four musicians will join another Heart alumnus, Michael Derosier, as well as White, Macek, Tracy Bonham, violinist Geoffrey Castle, Blue Thunder and other musicians for Synergia Northwest 2010, a benefit concert supporting music education.
The event is Saturday (May 15) at the Temple Theatre in Tacoma. Visit the Web site for more information.
For a previous story about the Seattle Hard Rock Cafe, click here.