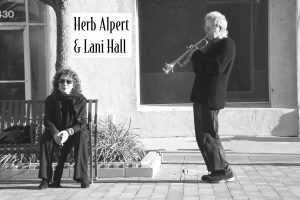 By BILL VIRGIN
Herb Alpert could easily have capitalized on his legacy of helping to create the soundtrack of the American '60s by hitting the casino, state fair and symphony pops circuit with a reconstituted Tijuana Brass and a "then I had a hit with. . . " show.
Or, at age 74, he could have enjoyed a leisurely retirement doing nothing, living off the financial rewards of co-founding, building and selling one of the most successful independent labels in the business – A&M Records.
But Alpert has never exhibited much taste for nostalgia, especially for his own career. The extent of his reliving the TJB days has been authorizing and overseeing the reissue of some of the group's records (as well as one solo effort) on CD.
That's not to say he withdrew from the scene. Alpert has in recent years pursued his interests in painting and sculpture, philanthropy for the arts – and music.
But not just any music, and not a trip down memory lane accompanied by the sound of the Tijuana Brass. Two years ago he hit the road with his wife, Lani Hall (one of the lead singers for Sergio Mendes and Brasil '66, a mainstay along with the TJB of middle-of-the road AM radio in the 1960s), and a small combo. Last year he released a compilation of tunes recorded on that first tour on a CD on the Concord jazz label. "Anything Goes," parts of which were recorded at an earlier stop at Seattle's Jazz Alley, includes reinterpretations of standards from the American songbook and Latin-inflected selections.
Alpert was back in Seattle this week for a two-night, sold-out stand at Jazz Alley, the first of which firmly demonstrated that yes, this is a different sound for Herb Alpert, and yes, he is a jazz musician.
Jazz and Herb Alpert's musical reputation have had a curious relationship over the years. Alpert's fans have always felt that jazz purists dismissed Alpert as a pop lightweight and his music as no better than easy listening. Although those fans may cite Miles Davis' quote that "you hear three notes and you know it's Herb Alpert," they often do so warily and a bit defensively, unsure of whether Miles was being dismissive or contemptuous.
But Alpert always had jazz sensibilities, even if he was rarely given credit for them. Even in the midst of the TJB's pop chart-topping records, jazz influences frequently showed themselves. In the late years of the TJB, as well as in his solo career, Alpert veered more decidedly toward jazz, especially on the underappreciated (and lamentably unavailable on CD) 1975 release "Coney Island."
As Tuesday night's show vigorously demonstrated, Alpert, Hall and their touring combo (pianist Bill Cantos, bassist Hussain Jiffry and drummer Michael Shapiro) are decidedly and irrefutably jazz.
Alpert doesn't ignore his TJB roots. The set includes a TJB medley ("Rise," "Whipped Cream," "Lonely Bull," "Tijuana Taxi" and "A Taste of Honey" played in two different styles) as well as a few quick references slipped into other songs – the distinctive line from "This Guy's In Love With You" at the end of "I've Grown Accustomed to Her Face," or "Spanish Flea" in the encore medley of songs written by Antonio Carlos Jobim.
But this is no TJB cover band, and Alpert's playing today is not identifiable in three notes, at least not as the old Herb Alpert. He's playing a lot of muted trumpet these days (on "It's Only a Paper Moon" Alpert plays a two-bell contraption which, with a quick flick of a slide, switches from muted to unmuted). He takes solos and leads (including "Besame Mucho," which has been nominated for a Grammy), sings a bit (the aforementioned "I've Grown Accustomed to Her Face"), stands and listens respectfully and appreciatively as his wife sings or other band members take their turn and uses the trumpet to musically accent, underline and complement those turns.
He's experimenting a lot too. While Tuesday's Jazz Alley show covered much of the material on "Anything Goes," it's far from a note-for-note recreation of the CD. It's evident that Alpert is trying out new lines, and having fun doing so.
Alpert made a point of that in his comments from the stage. With the Tijuana Brass, he said, the group would play the same songs the same way every night. By the third night, he said, "It got a little tedious."
What he, Hall, Cantos, Jiffry and Shapiro are doing, he added, is largely improvising each song each night (or "ad-libbing," to use his term). Which, come to mention it, is the whole point of jazz.
It doesn't hurt that Alpert's combo can be described as both tight and loose – tight in the sense of top-notch musicianship creating a solid framework on which to hang those ad libs, loose in the meaning of being able to shift directions and moods, from sultry to driving to playful (as in the call-and-response between Alpert and drummer Shapiro on "Paper Moon"). Hall is in terrific vocal form, from the verbal gymnastics (in Portuguese) of "Para-Raio" to the wry "Morning Coffee" (written by Cantos) to new twists on old standards ("Let's Face the Music and Dance," "Anything Goes.").
Tuesday's show featured considerable material not on "Anything Goes" – "Till There Was You," Lennon & McCartney's "Blackbird," "Berimbau," among others). Given the energy, style and expertise with which the Alpert-Hall combo is playing these days, a second CD would be most welcome.
If and when it comes, definitely file it under jazz.
(Editor's note: Bill Virgin is the former business columnist for the Seattle Post-Intelligencer. He is currently a business columnist for The News Tribune in Tacoma and Seattle Business Monthly, as well as the founder, editor and publisher of Washington Manufacturing Alert and Pacific Northwest Rail News. He is a long-time TJB fan, having interviewed Alpert twice for the P-I, and still has his TJB LP records. He can be reached at bill.virgin@yahoo.com.)
Click here to visit Alpert's Web site and hear clips of his music.
Just for fun, here's a 1965 video of Alpert and the Tijuana Brass: