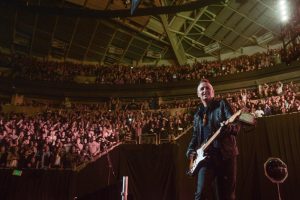 The group working on a KeyArena renovation is considering a partnership with Rock and Roll Hall of Famers Pearl Jam, possibly allowing the Seattle band an extended residency similar to what Billy Joel has done at Madison Square Garden. What do you think of this idea?
"The Oak View Group says its renovation proposal can proceed without NBA or NHL teams for now because of the concert revenue its Live Nation deal would provide. The partnership also is exploring an 'extended residency' deal with legendary rock band Pearl Jam." — The Seattle Times
The Seattle Times' Geoff Baker looks at the potential deal here.