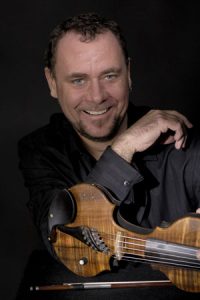 This is the time of year when new Christmas CDs beckon from store shelves, offering holiday cheer in small, inexpensive packages.
Since nostalgia is such a big part of Christmas, many collections are simply repackaged (or re-recorded) songs from past and present artists. And then there's the wacky novelty stuff, such as a Chipmunks Christmas remix or Boxcar Willie's collection of hobo holiday favorites.
Here's what virtuoso Northwest violinist Geoffrey Castle has to say about "Underhill's Angel," his debut Christmas album, which he describes as "a treasury of music for the season":
"I wanted to make a CD with songs that predated the commercialization of Christmas. Melodies that are 200, 300, 400, 800 years old. A CD with deep spiritual roots, and a sound that feels right now, full of inspiration and improvisation.
"(Pianist) Eric Robert and I went into the studio with Grammy Award-winning bassist Garey Shelton and we followed our own path. The result really is magical. Some of these ancient melodies will be familiar, and some, I am sure, will become new favorites."
The album is entirely instrumental, creating an ethereal mood that is soothing and reflective. It's the perfect CD for the wee hours of Christmas morning, long after the fire has faded to embers.
The album opens with "Coventry Carol," a gentle piece that highlights Castle's lyrical playing on acoustic and six-string electric violins. Among the songs are "Good King Wenceslaus," "Underhill's Angel" and "Salva Nos." There are familiar melodies as well: "God Rest Ye Merry Gentlemen," "First Noel," "Greensleeves" and both Castle's and Robert's versions of "Ukrainian Bell Carol."
"Ukrainian Bell Carol" is from the Ukrainian folk song "Shchedryk." Mykola Leontovych popularized the melody in the 20th century as "Carol of the Bells."
Castle, a one-time New York street musician discovered by an NPR reporter, is a veteran of Northwest groups Guarneri Underground, Children of the Revolution and his own Geoffrey Castle Band.
You can purchase the album — or listen to samples — at Castle's Web site.
If you would like to hear Castle's seasonal music performed live can attend one (or both) of two Celtic Christmas concerts. The first is at 6 p.m. Dec. 6 at the Center for Spiritual Living, 5801 Sand Point Way N.E. Tickets: $20 ($25 day of show). Info: 206-527-8801.
Performers include vocalist Beth Quist (who has been featured in Cirque du Soleil and Bobby McFerrin's Voicestra), master of ceremonies Tiger Budbill, the Celtic Dancers, a troupe of elf dancers and a light show by Mode Productions.
The second is at 8 p.m. Dec. 17 at the Kirkland Performance Center, 350 Kirkland Ave., Kirkland. Tickets: $20 ($25 day of show). Info: 425-893-9900.
Guests include drummer Alan White of Yes, bassist Bernt Bodal, Mac MacDonald as Santa Claus, the Celtic Dancers, singer-guitarist Dan Connolly, and vocalist Quist.
Watch a video of Geoffrey Castle performing "Floating Downstream" (from his 2006 "Mist on the Mountain" CD) at the Triple Door: