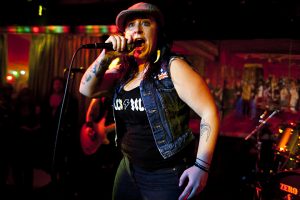 If you like your tribute bands hot and sassy, Seattle all-female AC/DC tribute group Hell's Belles is a pocketful of dynamite.
New singer Amber Saxon, a native of Australia, recently joined the band and made her Seattle debut at an ear-shattering private show April 21 at the Sunset Tavern in Ballard.
Saxon and Adrian "Angus" Conner live in Austin, while Lisa Brisbois, Mandy Reed and Laura D. live in the Northwest. The band formed in 2000.
We'll have more about this head-banging bevy of hard rockers in advance of their next Seattle show June 3 at Neumos. Check out the band's Web site here.
Seattle photographer Alex Crick shot the photos for this post. Here's a link to his Web site.
— Gene Stout