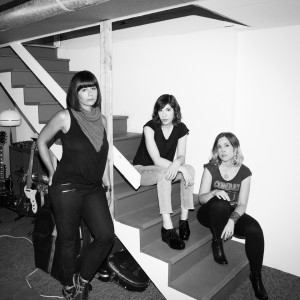 By MIKEL TOOMBS
They were on a break!
Sleater-Kinney, the Olympia-born riot-grrrl trio once aptly deemed "America's best rock band" by venerated critic Greil Marcus, made its supposed farewell appearance eight years ago with a "ferocious performance" at Portland's Crystal Ballroom, reviewed here.
Now, after separate(d) stints in the promising Wild Flag (drummer-singer Janet Weiss and singer-guitarist Carrie "Portlandia" Brownstein) and the Corin Tucker Band (singer-guitarist Tucker), Sleater-Kinney is back with a new album, "No Cities to Love," on the heels of a seven-CD/LP retrospective, "Start Together," both on Seattle's pioneering indie label Sub Pop.
Due Jan. 20, "No Cities to Love" (surely Portland must be an exception) was produced by old friend John Goodmanson, who helmed the band's best album, 1997's "Dig Me Out" (recorded in Ballard), and features the song "Bury Our Friends," whose video features local icon Miranda July.
"I always considered Corin and Carrie to be musical soulmates in the tradition of the greats," Weiss, deemed by some (present company included) America's best rock drummer, is quoted in the Sub Pop press materials.
"Something about taking a break brought them closer," she says, "desperate to reach together again for their true expression."
(EDITOR'S NOTE: Mikel Toombs is a frequent contributor to GeneStout.com. Read his recent post on 5 Seconds of Summer here.)