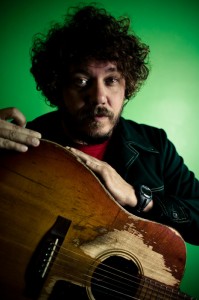 By MIKEL TOOMBS
The final day (Monday, Sept. 6) of Seattle's Bumbershoot festival, soggy and somewhat sparsely populated, yielded some offbeat, even unexpected delights.
What can you say about a speed-metal guitarist-singer who prompts a 60-something woman in the Center Square Stage crowd to exclaim, "He's the best entertainer I've seen in three days!"?
Only that it had to be the irrepressible, sex-toy-wielding (on "Mothra," a tribute to the Japanese movie monster) Steve "Lips" Kudlow, the self-proclaimed 54-year-old "kid" who fronts the Canadian (Lips' T-shirt featured a maple leaf and read "EH?") band Anvil, whose career was revived by the both hilarious and touching documentary "Anvil: The Story of Anvil."
Meanwhile, Mainstage draw Drake, 23, wasn't the only Monday performer to combine hip-hop and R&B. Booker T. Jones, 65, added old-school rapping to the Booker T & the MGs classic instrumental "Hip Hug-Her" (!) and to Al Green's "Take Me to the River" (!!).
Jones didn't rap, leaving that to his fine drummer, though he did provide passable vocals to the classic likes of "Take Me," Albert King's "Born Under a Bad Sign" (Jones co-wrote the song), Bill Withers' "Ain't No Sunshine" (he produced) and "Dock of the Bay" (he played piano on the original Otis Redding recording).
And then there was Bobby Bare Jr. Backed by Portland's Blue Giant, the son of country stalwart Bobby Bare ("Detroit City") capped off his indie-hippie-country-rock set with "Rock and Roll Halloween," a riotous cut from his new album, "A Storm, A Tree, My Mother's Head." (That's a sadder tale, of course.)
Bare and Blue Giant, barely (sorry) disguised as Naked Albinos, return to town for "a secret surprise show" Wednesday, Sept. 8, at Ballard's Sunset Tavern (9 p.m.; $12) as part of their understandably low-budget Carpool America Tour.
Monday, Bare advised the Broad Street Stage audience that proceeds from his merchandise sales would go to feed the hungry, "including my own kids. And my ex-wife. And her new boyfriend."
EDITOR'S NOTE: Mikel Toombs writes a weekly music column for the San Diego News Network and is an occasional contributor to GeneStout.com. For another Bumbershoot story by Toombs on Courtney Love and Hole, click here.