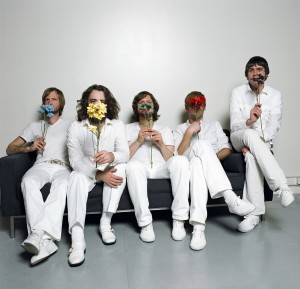 Minus the Bear is moving to a bigger stage, literally and figuratively.
This weekend, the Seattle rock band will make its third appearance at the Sasquatch! Music Festival at The Gorge. But the group will play the sprawling main stage instead of one of the smaller side stages.
The group even has lights and video for its latest tour, though the production may be hard to appreciate in full daylight when the band takes the stage at 2:15 p.m. Saturday (May 29) on the opening day of the three-day festival.
The timing of the band's main stage debut couldn't be better. Minus the Bear's fourth full-length album, "Omni," is the highest-charting recording in the group's nearly 10-year history. And it features a big, expansive sound that blends the group's signature, progressive-rock sound with soul, funk, R&B and hip-hop in such songs as "My Time," "Summer Angel" and "Secret Country."
Raw, sexy and powerful, "Omni" — released May 4 on Dangerbird Records — crackles with energy. The group enlisted Grammy-winning producer Joe Chiccarelli (who has worked with the White Stripes, My Morning Jacket and The Shins) to lead the recording sessions.
"We wanted to do something fresh and new," guitarist Dave Knudson said in a phone interview from a tour stop in Pomona, Calif.
"So we basically put together a list of producers that we would love to work with and were fortunate enough to talk with a lot of those producers over the phone.
"There were two people who really stood out, and Joe was the star. Once we met up with him, it was kind of a no-brainer. He flew up the day after he won a Grammy for engineering for the Raconteurs record, and we went out to lunch the next day. And we were like, 'Sweet, is your fee going to be a lot more now, Mr. Grammy winner?'
"But he's been a great guy to work with. We went back to our rehearsal space and listened to some demos, and he was really pumped."
Chiccarelli started with some new arrangements for the band, which includes Knudson, singer and guitarist Jake Snider, drummer Erin Tate, singer and keyboardist Alex Rose, and bassist Cory Murchy.
"He was great at just giving the songs a big soulful groove that I don't think they've had in the past. We slowed some of the tempos down from what we did on previous records, and I think that created a bigger, more all-encompassing sound. The way that he gets tones and the way he hears things in his head and then is able to engineer that on the tape is pretty remarkable," Knudson said.
The band recorded much of the album in live takes.
"We kept pretty much all the live takes instead of going back and doing overdubs. So we were catching more of the live energy of five guys playing in a room rather than recording individually. There's a lot more inspiration when you can play along with your band mates in the same room and know that it's going to tape."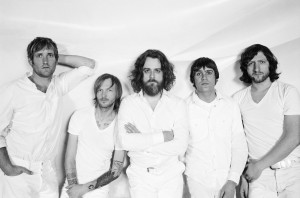 At times, the recording process was demanding.
"It was definitely a learning experience. And we learned a lot," Knudson said.
"(Chiccarelli) pushed us in ways that we'd never been pushed before. . . . There were no pre-conceived limitations or restrictions. He was pushing us in new directions. So if was a fresh approach in that regard."
"Omni" is a culmination of what the band has learned in nine years.
"On 'Planet of Ice' (released in 2007), we were more focused on the prog rock and going for it. I think we realized we wanted to regain some of the dancey-ness and the groove, the party aspect, to some of our earlier stuff. So I think this album is really a song showcase, with better songwriting and just the fact that we've written a record that's playful, but it also has a serious, sultry, soulful side as well."
And the lyrics? Definitely sultry. As in "Summer Angel": "My summer angel keeps me on the run/ And when her kisses came/ They rained down/ And when my body moved/ She made sound/ And when she moved down/ She made my back arc."
Snider, the group's chief lyricist, ventures into a dreamy world of carnal fantasy.
"Jake definitely likes telling his stories," Knudson said.
Long before work on "Omni" had begun, Knudson picked up a couple of new toys: a baritone guitar and a vintage Omnichord manufactured by Suzuki.
"This was the first time I've used a baritone guitar. And it was really awesome. I'd gotten it while we were on tour and immediately started doing some really cool riffs at sound checks. It's sort of halfway between a guitar and a bass," Knudson said.
"I use it on 'Secret Country.' That's probably one of the heaviest Minus the Bear songs that we've written. And it's probably the prog-iest song on the new record. It's probably the most fun song to play live, too, because there's some fun guitar stuff happening."
Knudson described the Omnichord as "a weird, 1980s Japanese autoharp." It's fun to play, even if you don't have much training. And it became a favorite of David Bowie, Brian Eno, The Human League and others.
Another highlight of "Omni" is Rachel Flotard of Visqueen. She sang background vocals on the song "Into the Mirror." Read my interview with Flotard here.
"It was Joe's idea to bring in a female vocalist for 'Into the Mirror.' We thought, Who could we bring in? Oh, let's get Rachel. Luckily, she was in town and came by the studio. Joe loved her and went out and got margaritas for everyone afterward."
Knudson said the songs from the new album are a blast to play on the road.
"They're awesome," he said. "The fans are already singing along to the new stuff, and that's a good sign. 'Secret Country' is just such a killer song live. It has that groove. Coming out of a p.a. super loud just infects the soul."
Check out Minus the Bear's Web site here. And here's a link to the band's MySpace page.
Sasquatch! has fewer big headliners and more up-and-coming acts this year, giving concertgoers a chance to see many performers who are on the rise. The lineup, booked by Adam Zacks, includes performances by My Morning Jacket, Vampire Weekend, The National, Massive Attack, Pavement, LCD Sound System, Ween, MGMT, Band of Horses and many others.
For more information about the lineup and hours, visit the Sasquatch! Web site. Tickets are sold out.