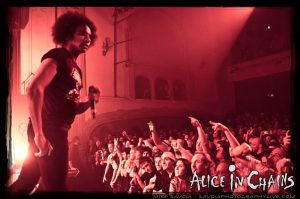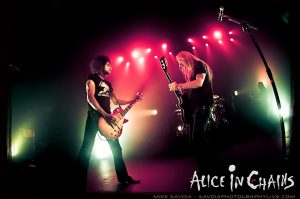 On a busy week of homecoming shows by big Seattle bands — Pearl Jam, Heart and Alice in Chains — it was Alice that had the last word.
Returning from Europe to kick off a new tour in its hometown, Pearl Jam played Monday and Tuesday at KeyArena. Heart, which had been on the road for many months, came home to a boisterous, capacity crowd Wednesday night at the Puyallup Fair. And Alice in Chains returned to a steam bath of sweaty fans Thursday night at the Moore Theatre, just a month after a private party for fans at the Experience Music Project.
Jerry Cantrell, Sean Kinney, Mike Inez and William DuVall, who replaced the late Layne Staley as lead singer, wowed a hometown crowd with a nearly two-hour show of favorite songs, as well as new material from the group's new album (due Sept. 29), "Black Gives Way to Blue."
Excited, overheated fans packed the Moore, and the air was so hot and humid by show time that it looked as though a fog machine had been running all day.
DuVall beamed at the sight of tightly packed fans who made "devil horns" with their fists and roared approval as the band took the stage.
"It was cold in here earlier," DuVall said at one point. "You guys made it nice and hot."
The band opened with "Rain When I Die," followed by "Again" and "Check My Brain." The show featured nearly 20 songs.
Though it's still hard to accept Staley's absence seven years after his death from a drug overdose, DuVall does an impressive job of filling the role of Alice in Chains frontman. In fact, he sounds eerily like Staley, but never overplays the role. It appears that fans have heartily welcomed him.
The band roared through a set list that featured "Them Bones," "We Die Young," "God Am," "Acid Bubble" and "Angry Chair," as well as "A Looking in View," the first single from the new album.
The band concluded its main set with a smoldering "Man in the Box" and a crowd-pleasing "Would?"
For the encore, Cantrell came out by himself, sat on a stool and played a powerful, acoustic version of the title song of the new album, "Black Gives Way to Blue." The show concluded with a soaring version of "Rooster" that inspired a crowd singalong.
When the band took it's final bow, the foursome looked happy and re-energized. It's easy to forget that as much as Staley helped define the sound of Alice in Chains, his personal struggles must have caused a great deal of disfunction. That dark cloud has since lifted, though the pain and heaviness of Staley's songwriting remains.