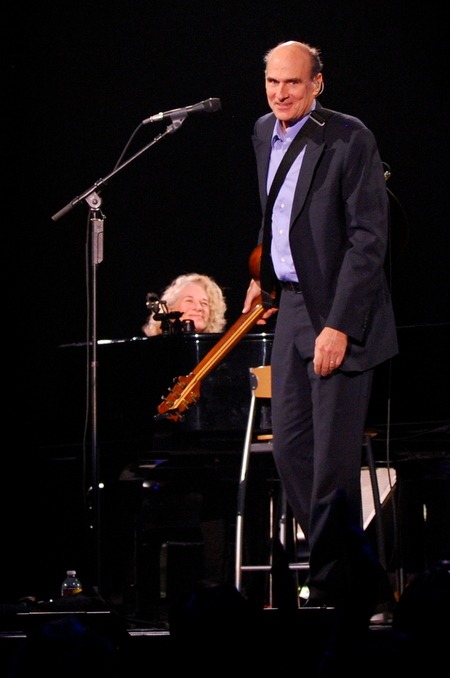 A lot of James Taylor and Carole King fans felt the earth move Sunday night (May 9) at KeyArena.
The iconic songwriters who wrote and recorded some of the most beloved music of 1970s performed more than two hours of classic hits during the Seattle stop of their celebrated "Troubadour Reunion Tour."
It was a powerful, uplifting and sometimes inspiring concert fueled by the duo's natural chemistry.
The around-the-world trek celebrates the 40th anniversary of Taylor and King's 1970 debut performance at the Troubadour club in Los Angeles, a legendary concert that couldn't have been more auspicious. By 1971, both artists had become international stars.
At KeyArena, the famous pair rekindled the excitement of their debut with a sprawling performance featuring such songs as "I Feel the Earth Move," "Fire and Rain," "You've Got a Friend" and "How Sweet It Is (to Be Loved by You)."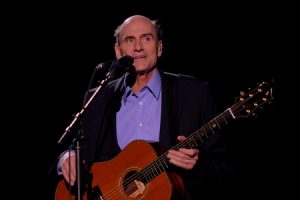 Backing Taylor and King was the same band that played with them at the original Troubadour show — guitarist Danny Kortchmar, bassist Leland Sklar and drummer Russ Kunkel — as well as vocalists Arnold McCuller, Kate Markowitz and Andrea Zonn (who also played fiddle).
The show was staged in the round with multiple screens providing closeups as well as nostalgic images of the headliners and their backup artists. (A black-and-white photo of a preppy-looking Sklar in his youth contrasted sharply with the bassist's long-haired, bewhiskered appearance today.)
Taylor and King shared the spotlight, weaving together songs that rocked a generation. In the first set, Taylor balanced the humorous "Machine Gun Kelly" with beautiful versions of "Carolina in My Mind" and "Shower the People," while King (seated at a grand piano) stirred memories with "So Far Away," "Song of Long Ago" and a fun-filled "Natural Woman."
King celebrated a career that began as a writer of hits for other artists. Especially fun during the second set was "Will You Still Love Me Tomorrow," which she and Gerry Goffin wrote for the Shirelles (King said she first heard the recorded version of the song on the radio of a 1956 Mercury; an image of the car, or one like it, brought a cheer when it was shown on an overhead screen).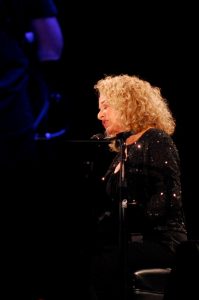 Taylor and King performed a stunning duet of "Crying in the Rain," then briefly kissed. Taylor sang a beautiful "Sweet Baby James," and King followed with a swinging "Jazzman." Taylor quipped that "Steamroller Blues" had taken less time to write than it did to perform.
A number of songs — among them Taylor's "Fire and Rain" and King's "I Feel the Earth Move" — brought standing ovations. (The latter song was accompanied by vintage video clips of people dancing.)
Returning for an encore, Taylor and King traded lead vocals on "Up on the Roof," a song each of them had recorded, with different arrangements. Taylor was warmly sentimental on "How Sweet It Is (to Be Loved by You)." Both of them sat in chairs for a stunning "You Can Close Your Eyes."
The show concluded with a rousing version of "The Loco-Motion." The finale brought the audience to its feet for a hand-clapping singalong.
Here's a link to the duo's "Live at the Troubadour" album.
Read reviews of two other recent concerts at KeyArena, Michael Buble and Bon Jovi.
What did you think of the Taylor-King performance? You can post a comment below.