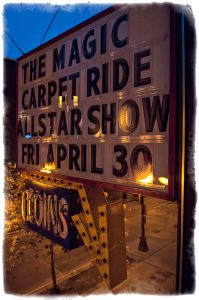 The Hard Rock Cafe lived up to its name Friday (April 30) with a hard-rocking lineup of local bands led by The Magic Carpet Ride, featuring original Steppenwolf keyboardist Goldy McJohn.
Anyone who doubts the new Seattle Hard Rock Cafe's viability as a concert venue should have been at the show.
The upstairs nightclub was packed with nearly 500 patrons for a full evening of rock 'n' roll that included such guests as Leon Hendrix, rock singer Somar Macek (backed by Roger Fisher and Steve Fossen, formerly of Heart), Heart tribute band Heartless, rock band Three Quarter Minus (billed as "surprise guests") and singer Gretchen Christopher, who led Olympia group The Fleetwoods in the late '50s and sang such hits as "Come Softly to Me" and "Mr. Blue." The show concluded with a blistering set by Witchburn.
I apologize if I've forgotten anyone. It was a wild, chaotic night of rock 'n' roll.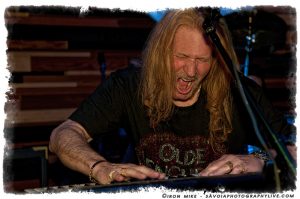 Classic-rock band The Magic Carpet Ride performed a raucous, powerful set in the club's roomy upstairs bar, which is decorated with rock memorabilia, much of it from Jimi Hendrix.
The nightclub was packed with the kind of folks you don't usually see at downtown, Belltown, Capitol Hill and Ballard venues — hard rock fans from the suburbs, some with big hair and rock star outfits, just having a great time. It almost felt like a high school reunion. And it was definitely festive.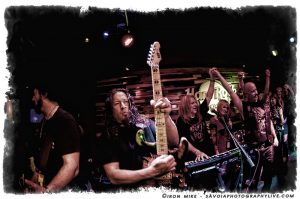 Serving as master of ceremonies was John Maynard of legendary Seattle radio duo Robin and Maynard.
The Magic Carpet Ride kicked off its set with "Sookie Sookie," the song that features the memorable lyric, "Let it hang out baby, let it hang out now now na-na now/ Let it hang out baby, everybody work out/ Sookie, Sookie, Sookie, Sookie, Sookie, Sookie, Sue."
Goldy's roiling riffs were featured in a tight set that included "Magic Carpet Ride," "Gang War Blues," "The Pusher," "Never Too Late" and the biggest Steppenwolf song of all, "Born to Be Wild." The group also led a sing-along of Bob Dylan's "Like a Rolling Stone."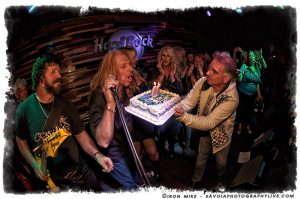 Classically trained, McJohn is an absolutely delight on songs that made the Canadian-American hard-rock group famous in the late '60s. That seems so long ago, but McJohn brought everything into the present.
Festivities included a birthday cake for McJohn (his birthday is actually May 2). The band was accompanied by the Born to Be Wild Babes, an enthusiastic, impromptu dance group of attractive, big-haired blondes.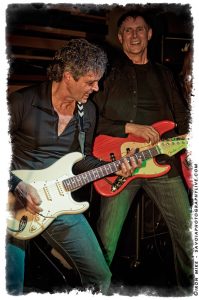 The stylish nightclub features a large, central bar with stools, but is mostly a standing-only venue. My only beef: the height of the stage was a bit low, forcing many to crane their necks to see what was happening on stage. Check out the club's Web site here.
For more information about McJohn, Magic Carpet Ride and Steppenwolf, follow this link.
The photos in this post were taken by "Iron" Mike Savoia. Here's a link to his Web site.
Read an earlier story about the Seattle Hard Rock Cafe here. And follow this link to the Hard Rock's events page.