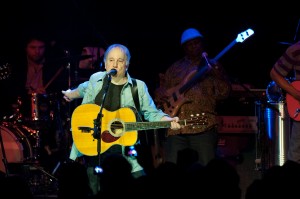 By JO ANN RIGGS
It was a true Kodachrome moment.
Paul Simon, who'd played WaMu Theater in Seattle on April 15, debuted the club portion of his new U.S. tour here Sunday night, April 17, at the Showbox at the Market.
This was in many ways a snapshot of an earlier time, when the not-yet-headinin' Simon haunted the '60s Greenwich Village folk venues with his childhood pal, Art Garfunkel.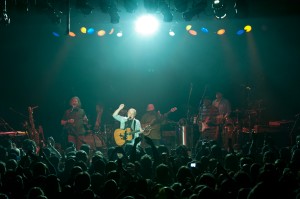 Simon may no longer have the club thing down pat, as he mostly echoed the sound of silence between songs ("So far, so good," he noted on his 17tth song, "Love Is Eternal Sacred Light") and only once stepped away from his great eight-man band (for, yes, "Sounds of Silence").
But the relaxed setting allowed him to give free reign to song selection, starting with "The Boy in the Bubble" ("These are the days of miracle and wonder") and concluding, 25 songs and just over two hours later, with "Still Crazy After All These Years."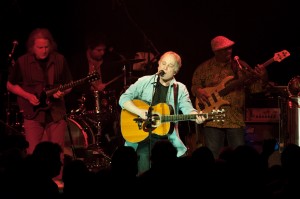 Still vital after all these years, Simon also found time for covers of "Here Comes the Sun" (a time of miracle and wonder in Seattle these days), the five-guitars-strumming "Mystery Train" (the Elvis Presley version is most famous) and Jimmy Cliff's "Viet Nam."
Jamaican Cliff's mix of pop music and African influences was echoed in Simon's music, whether on "Crazy Love, Vol. II," which featured his trademark staccato vocals, or the amazing, dance-inducing "Diamonds on the Soles of Her Shoes."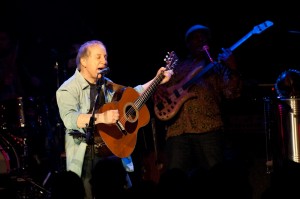 Follow this link to Simon's official Web site.
Read a Mikel Toombs review of Simon's new album here.
(EDITOR'S NOTE: Accompanying photos were taken by Jim Bennett; visit his Web site here. Seattle freelance writer Jo Ann Riggs is an occasional contributor to GeneStout.com.)