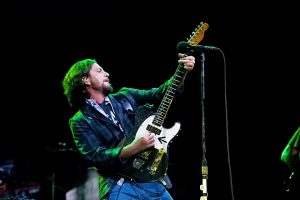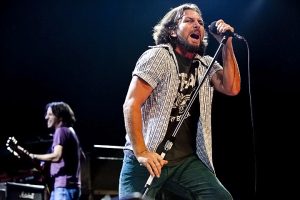 Though Pearl Jam can now call itself an indie band after releasing a new album on its own label, the Seattle group is still playing in the big leagues when it comes to staging an arena rock show.
The Seattle group kicked off its latest tour with a megawatt, two-hour-plus concert Monday night at KeyArena, revvving up its fans with old chestnuts like "Even Flow" and "Alive," as well as spanking-new rockers "Got Some" and "Johnny Guitar" from the band's new album, "Backspacer." Concertgoers sang along to many of the songs, doing such a nice job with "Better Man" that even Vedder was impressed.
There were also some tender, reflective tunes, among them "Daughter" and another new song, "The End," during which singer-guitarist Eddie Vedder was joined by Seattle's Octava String Quartet (something that likely won't happen elsewhere on the tour).
The show, which will be repeated Tuesday night at KeyArena, closed Seattle's long, hot summer with a bang.
Before the show, a recorded announcement warned that anyone caught crowd-surfing or moshing would be ejected. "Be cool, be courteous, be careful," a female voice intoned. Did someone at KeyArena think this was 1993? And that everyone in the crowd would be 15? Hilarious. In fact, concertgoers on the main floor were seated.
"We're glad you could make it. I see friends, I see some neighbors, but no enemies," a smiling Vedder told the massive crowd before launching another new song, "Amongst the Waves," which is not about surfing, he said.
The new album was well-represented in the show's opening volley. "Gonna See My Friend" and "Got Some" put the capacity crowd into a frenzy, even though the album was just released on Sunday.
The buzz about "Backspacer," one of the band's best albums in years, has been phenomenal. Written and recorded in a relatively short time frame, the album recalls the energy and excitement of the band's first album, "Ten." The band worked with producer Brendan O'Brian for the first time in years, and the result was a taut, tuneful album with plenty of punch. The album is being sold at Target stores through an exclusive distribution deal.
Joining Vedder and band members Mike McCready and Stone Gossard (guitars), Jeff Ament (bass) and Matt Cameron (drums) was Kenneth E. "Boom" Gaspar (organ and keyboards), an O'ahu, Hawaii, native who has toured with the band previously. The crowd greeted him by chanting, "Boo-oom! Boo-oom!"
The stage was somewhat spare, save for a backdrop depicting old-fashioned typewriter keys spellinig the words "P-E-A-R-L J-A-M." Vedder joked about not having time to check if a non-existent inflatable Space Needle actually worked.
Vedder weighed in on President Barack Obama ("We're going to stand behind him") and Kanye West ("We, too, think he's a jackass"). But political commentary was held to a minimum, surprising for someone as outspoken as Vedder. Nevertheless, Vedder explained that after talking to his friend Krist Novoselic of Nirvana, he'll vote no on Susan Hutchison for King County Executive (and presumably "yes" on Dow Constantine). His comments introduced the song "Indifference."
Earlier, Vedder had said, "We weren't going to bring up anything political because of all these positive new songs."
Indeed, Vedder was in a jovial mood throughout the show, swigging from a bottle of wine and even handing a guitar pick through the crowd to a 6 or 7 year-old-boy in the audience. "I think this must be his 14th or 15th show," Vedder quipped. This was a much more relaxed Vedder than the angry man of the George W. Bush years.
The first encore opened with "Just Breathe," featuring the Octava Quartet, and closed with "Inside Job" and "Rearviewmirror." The second encore began with "Given to Fly" and featured a version of Pete Townshend's "The Real Me" with Seattle's Syncopated Taint Horn Quartet led by saxophonist Skerik.
The show wound to a close at about 11 p.m. with a boisterous, crowd-pleasing version of "Alive."
Opening the concert was Ben Harper and Relentless7, playing a suprising brief, 45-minute set. Known for his marathon performances, Harper and his band performed a number of dark, bluesy rock songs from the current album, "White Lies For Dark Times," among them "Number With No Name," "Lay There & Hate Me" and "Why Must You Always Dress in Black." The group also played a terrific new song, "Rock and Roll Is Free."