Billy Corgan was absolutely smashing in his sold-out Showbox Sodo performance Friday night (Sept. 10).
Leading his latest incarnation of the Smashing Pumpkins — guitarist Jeff Schroeder, drummer Mike Bryne (who wasn't born until after the original band formed more than 20 years ago) and new bassist Nicole Fiorentino — Corgan rocked the club with classic songs ("Tonight, Tonight," in particular) as well as new tunes from the recent EP, "Teargarden by Kaleidyscope." The place was completely gridlocked, from the standing-only bar to the restrooms.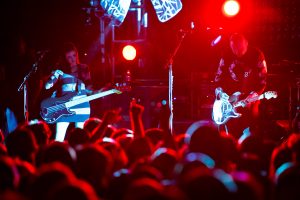 The capacity crowd was clearly in the mood for a celebration, and Corgan and company delivered with a loud, boisterous, colorful show. Though the band was known for moody, melancholy songs in its heyday, there was nothing blue about the concert, other than the occasional lighting effect. In fact, fans were grinning merrily through the entire, two-hour show.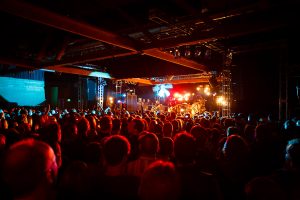 From a stage flooded with brilliant, rainbow-colored lighting (perhaps playing off the "Kaleidyscope" theme, the band opened with "Astral Planes," "Ava Adore" (which Corgan turned into a howling guitar showcase) and "Drown." Two spinning props resembling giant sunflowers, or maybe propellers, added to the hyperkinetic stage show.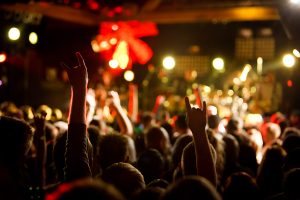 New songs included "Spangled" and "A Song for a Son," among others. But the '90s classics "Bullet With Butterfly Wings" and "Today" had concertgoers happily singing along to the lyrics.
At one point, Corgan mentioned that he had visited the Experience Music Project while in Seattle and discovered a plaque proclaiming Seattle as the birthplace of grunge. Corgan chuckled when a fan shouted, "We're sorry."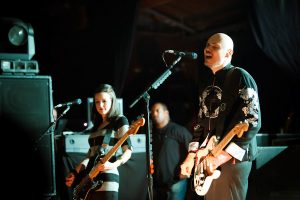 Though the original band formed more than a generation ago, the bald-headed Corgan still maintains a youthful look, even if it has required a little plastic surgery. "What I'll do to stay young," he told the crowd.
The show came to a close with "Tarantula," followed by a two-song encore featuring "Zero" and "Freak."
Opening the concert was Chicago heavy-rock band Bad City.
The photos accompanying this post were taken by Seattle photographer Christopher Nelson. Visit his Web site by following this link.