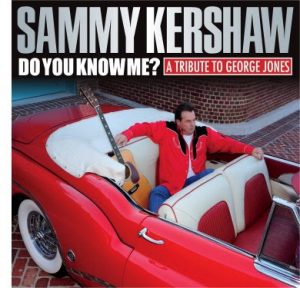 Country star Sammy Kershaw is paying tribute to his late friend and mentor George Jones with the release of a new album dedicated entirely to the "Possum."
Kershaw will release "Do You Know Me? – A Tribute to George Jones" on July 22.
Kershaw's vocal style has often been compared to that of George Jones. Kershaw embraces the similarities and cherishes his memories and friendship with the country-music legend.
"When I was four or five years old, I can remember hearing George Jones sing and even though I hadn't yet lived any of those heartbreaking songs, I could hear that natural tear in his voice and it would make me cry," Kershaw says.
"I felt every word in every story that he was singing. I can remember that when I was that little kid, I felt like I already knew him."
Kershaw's fulfilled a boyhood dream when he met Jones a decade later.
"When I was 14 years old I had the honor of meeting Jones for the first time and was able to open several shows for him, which for me was the opportunity of a lifetime. Sometimes things in life are hard to explain, but like I said, I always felt like I knew George Jones before I ever met him."
Kershaw tackles some of Jones' biggest songs on the 14-track album, including "White Lightning," "Who's Gonna Fill Their Shoes," "The Grand Tour," "He Stopped Loving Her Today" and "The Race Is On," among others. Two all new songs, inspired by Jones, are also included, and Kershaw tapped Jones' daughter, Georgette Jones, for the classic duet, "Near You."
"When it comes to doing a George Jones and Tammy Wynette duet there was no way that I couldn't ask Georgette Jones to do her mother's part," Kershaw says. "I knew I wanted her on the album and when I asked her she said yes right away and that sure made me happy."
"Do You Know Me? – A Tribute to George Jones" was produced by Kershaw and will be released on his own label, Big Hit Records.
For more information about Kershaw, go to his official website here.