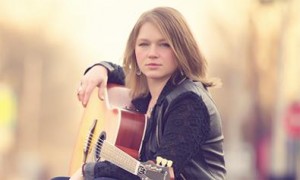 By MIKEL TOOMBS
Crystal Bowersox is no longer someone to dread.
That is, the dreadlocks that so unnerved Simon Cowell (always a good thing, in my book) on the 2010 season of "American Idol" (she was runner-up, with Cowell's blessing) are now a thing of the past.
In some ways Bowersox, who released the excellent album "All That for This" and the self-explanatory single "Coming Out for Christmas" in 2013, seems a thing of the past herself; her Wikipedia page and even her Web site mostly cut off in that year.
However! Bowersoxers (she performed a Frank Sinatra song on "AI") will be happy to know that Crystal performs 8 p.m. Saturday (Feb. 28) at the Seattle supper club The Triple Door, 216 Union St. Lizzie Weber opens. Find all the details here.
Watch Bowersox perform "Farmer's Daughter" in 2013 at the Triple Door here:
(EDITOR'S NOTE: Mikel Toombs is a frequent contributor to GeneStout.com. Read his recent post about "stand-up economist" Yoram Bauman here.)