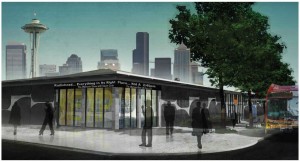 Congratulations to Friends of KEXP, which has received an award of $1 million for a new facility at Seattle Center, thanks to King County and 4Culture's Building for Culture funding program.
Friends of KEXP was among a group of 100 arts, culture and heritage projects throughout King County.
"The Building for Culture program will have a long-lasting and transformative effect on the arts and culture ecosystem of King County, and the entire region," says KEXP executive director Tom Mara. "KEXP is deeply honored to be among the projects that have emerged through 4Culture's rigorous review process."
"Thank you to 4Culture, the King County Council, and King County Executive Dow Constantine for having the vision and the wisdom to make the kinds of investments in our community that are reflected in the list of wonderful projects supported by this program."
"I proposed Building for Culture to leverage lodging taxes paid by visitors, and reinvest them in the bricks and mortar of museums, theaters, and heritage sites so we can continue to attract more visitors and locals alike," Constantine says. "What's special is the depth and breadth of these investments — youth and ethnic heritage centers, the historic theaters of downtown Seattle and new cultural destinations countywide, and landmarks and treasured historic buildings."
"A vibrant arts and cultural community is a hallmark of King County, something we are well known for nationally. The arts generate significant economic activity, provide a high quality of life for residents, inspire learning opportunities for youth, and attracts tourists," says King County Council chair Larry Phillips. "Through support of our arts and heritage organizations, we recognize the important role that these cultural experiences have in strengthening communities and developing young minds."
Including this award, KEXP has raised $13.5 million of a planned $15 million capital campaign. With $1.5 million left to raise to accomplish a full vision for the facility, the organization has encouraged donors to continue to support the campaign as it enters its final phase. Already, more than 7,000 donors have made gifts to the capital campaign.
Construction on the project began in February 2015, and the station plans to begin broadcasting from the still-unfinished facility on December 9, 2015, with a grand opening planned for April 2016.
When complete, KEXP's New Home at Seattle Center will include new broadcast and production facilities, a live performance recording space with room for up to 75 audience members to enjoy over 400 annual performances free of charge, an indoor-outdoor gathering space with a cafe and a stage, and room for the growing arts organization to expand. Learn more about KEXP's New Home here.
Building for Culture expands for one year 4Culture's annual arts and heritage facilities grant program, and will go toward building new facilities as well as expand, preserve and improve existing ones.
KEXP is among the most influential listener-supported music radio stations in the country. More than 200,000 listeners from around the world tune in to the station each week over the air and online.
For more information, visit the station's website here.