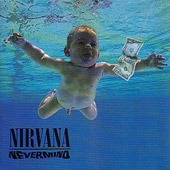 Next April, the Experience Music Project will launch what promises to be the most extensive exhibit on Nirvana, the Northwest punk/grunge band that exploded out of Seattle in the early '90s.
Curated by EMP's Jacob McMurray, "Nirvana: Taking Punk to the Massess," is scheduled to run April 16-22, 2011. The exhibit will feature rare and previously unseen items from the band and their crews and families.
Nirvana singer, songwriter and guitarist Kurt Cobain "was a visionary artist who touched people all over the world," said Krist Novoselic, the band's bassist and co-founder said in a statement.
"It's great that there will soon be a collection that celebrates that contribution to music and culture.
There's a story with Nirvana at its center, but it's a story that also includes the many people, bands and institutions that make up a music community. The show is a celebration of Northwest music."
Among the more than 200 artifacts associated with the band are Kurt Cobain's high school painting of two aging, Reagan-era punks in the post-apocalypse; the Teac reel-to-reel tape machine owned by Mari Earl, Cobain's aunt, on which a young Kurt recorded material for his early bands, Organized Confusion and Fecal Matter; Cobain's handwritten lyrics for Nirvana songs, including "Spank Thru" and "Floyd the Barber"; the yellow cardigan Cobain wore from 1991 to 1994; the winged angel prop featured on Nirvana's "In Utera" tour; and scores of candid snapshots of the band's early years, from its beginnings in Aberdeen, Wash., to the media frenzy that followed "Nevermind."
Included are various instruments, among them pieces of the first guitar Cobain destroyed onstage (a Univox Hi-Flyer), Dave Grohl's Tama Rockstar-Pro drum kit, and Krist Novoselic's Guild acoustic bass guitar and Buck Owens American acoustic guitar used during the recording of "MTV Unplugged."
Steve Fisk, who co-produced the band's "Blew" EP (1989), created the ambient soundtrack that fans will hear as they move through the exhibition. Visitors eager to dig even further into the vast store of images, audio and video that informed the collection will be able to explore them in detail at media kiosks.
Coinciding with the exhibit will be the release (by Fantagraphics Books) of "Taking Punk to the Massess: From Nowhere to Nevermind," a 250-page, full-color exploration of the grunge explosion as it related to the punk underground that developed in the in the 1970s and '80s.
Watch for updates on the Nirvana exhibit at the EMP Web site.
And here's a link to the Nirvana Web site.