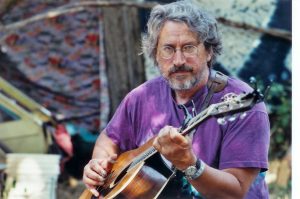 Jim Page began his singing and songwriting career in the 1970s on the streets of Seattle, creating topical, sometimes satirical songs that provoke thought and action among his listeners.
Page's latest album, "Ghost Bikes," features such tunes as "Tent City," "Hole in the Air," "Song for Leonard Peltier," "I Want a New America" and, of course, the title song, which refers to the roadside memorials to bicyclists who are killed.
"When a cyclist is killed by a car, the local cycle community will often put up an old bike, paint it white and chain it to a stop sign or lamp post," Page explains.
"This is a ghost bike. Sometimes people decorate them with flowers and memorabilia. They are international and they remind us to watch and maybe to see. At least to remember."
"Ghost Bikes" is Page's 21st album. It was recorded live with 30 friends (among them a band called "The Spokes") in April at the Jack Straw Studios in Seattle.
Page and his musician friends celebrate the album's release with a live performance at 8 p.m. tonight (June 12) at Fremont Abbey, 4272 Fremont Ave. N. Admission is $15 (and that's a "soft" $15 for those unable to pay the full amount).
Opening act is Erin Corday, who performs songs from her fifth album, "Where the Body Is," due in the fall. Doors open at 7:30 p.m.
The Spokes (a name created specifically for this recording project) included longtime collaborator Grant Dermody on harmonica, Michael Gray of Pearl Django on fiddle, Joe Litwin on percussion and Erin Corday on vocals and bamboo flute.
The recording also featured Joe Martin, Page's longtime friend and fellow advocate for the down-and-out and up-and-coming, as Page describes him.
"Ghost Bikes" was recorded on a modest budget, just under $1,500, and songs were recorded in single takes, complete with squeaking chairs and muffled coughs.
"I wanted to do a live record that celebrates the ordinary experiences, gritty reality and beauty of the world and make the songs come alive without tons of money and tedium," Page says.
Page, a youthful 60, has been compared to Bob Dylan and Woody Guthrie. Early in his busking career, he received a ticket for singing on the streets of Seattle, a watershed event that led to his campaign to get busking legalized in Seattle (it's hard to believe that it was once taboo).
Over the years, Page has shared stages with Emmylou Harris, J.J. Cale, Mickey Hart and many other musicians.
To read more about Page, visit his Web site.