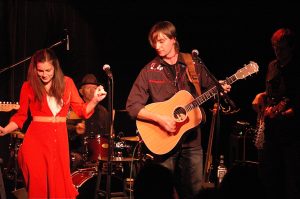 In 1973, musician and writer Michael Bate interviewed Gram Parsons, known as "the original cosmic cowboy." Six months later, the pioneering country-rocker (and father of alt-country and Americana) was dead of an overdose at 26.
Bate's chance interview with Parsons was the inspiration for "Grievous Angel: The Legend of Gram Parsons," a threatrical concert starring Anders Drerup as Parsons and Kelly Prescott as Emmylou Harris, a friend, protege and collaborator who sang on his first solo album, "GP."
Parsons' next album, "Grievous Angel," was released in 1974 after his death, establishing him as a legend of the country-rock genre he helped invent during stints with the International Submarine Band, The Byrds and the Flying Burrito Brothers.
Bate is the writer, director and producer of "The Legend of Gram Parsons," a touring production that makes its Seattle debut at 7:30 p.m. Wednesday (Oct. 20) at the Triple Door. Tickets: $18. Get the details here.
Bate, a former editor of Ottawa gossip magazine Frank, has created a Web site for the theatrical concert that features videos, downloads, merchandise and other details about the production. Ottawa's Globe and Mail recently ran a profile of Bate.
In a review last month of "The Legend of Gram Parsons," Bernard Perusse of the Montreal Gazette wrote: "Anders Drerup as Gram (conveys) a real sense of the singer's fears and hopes. . . . The inspired selection of songs is played with precision, joy and respect by a stellar band and two singers with riveting chemistry: Drerup and Kelly Prescott as Emmylou Harris (make) unforgettable moments of duets like 'Love Hurts' and 'Return of the Grievous Angel.' "
Read more about the bizarre circumstances of Parsons' death at a motel in Joshua Tree, Calif., and subsequent botched cremation by following this link.
An official Parsons Web site is under development. You can find it here.