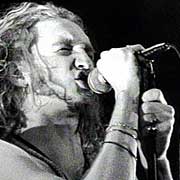 The 2010 Layne Staley Tribute and Benefit Concert features reunited Seattle grunge band My Sister's Machine, as well as Shawn Smith (with All Hail the Crown), Villains of Yesterday and Gunn & the Damage Done, at 7:30 p.m. Saturday (Aug. 21) at Showbox at the Market.
Staley, as the original lead singer for Alice in Chains, was one of the seminal figures of Seattle grunge. He died in April 2002 of a drug overdose. The band has successfully reunited, with William DuVall as frontman.
The event is presented by the Emerald City Musicians Network and Darrow Music Productions.
My Sister's Machine will feature its original lineup: Nick Pollock (vocals, guitar), Owen Wright (guitar), Chris Ivanovich (bass) and Chris Gohde (drums).
"(Layne) and I grew up together musicially, and as best friends as teenagers," says Pollock. "I had some of the best timesof my life with Layne and miss him very much. It's a privilege to honor his memory and life with My Sister's Machine having the opportunity to do this show."
Smith, who has been involved in a number of bands (Brad, Satchel and Pigeonhed), will lead All Hail the Crown, featuring himself on vocals, Kevin Wood (brother of Andrew Wood, of Mother Love Bone fame) on guitars, Rob Day on bass and Mike Hommel on drums.
"Part of the excitement of Shawn Smith," says tribute producer Jamie Richards, "is you never known which of his incarnations will perform or who will be gracing the stage with him."
Leading Gunn & the Damage Done is Tommy McMullin, former member of high-profile Seattle band War Babies.
Also appearing at the benefit is Staley's mom, Nancy McCallum. And two Seattle-area teens influenced by Staley's music — Jason Kertson and Amana Hardy — will perform a set.
Proceeds from the concert will benefit the Layne Staley Memorial Fund at Therapeutic Health Services, a nonprofit offering holistic treatment options and services for families affected by alcohol and substance abuse and mental illness.
Tickets are $18 at Ticketmaster or at the Showbox at the Market box office from 11 a.m. to 6 p.m. (the box office only accepts cash). Tickets can also be purchased at the door for $20.
Read my story here on the impromptu memorial for Staley at Seattle Center in 2002.