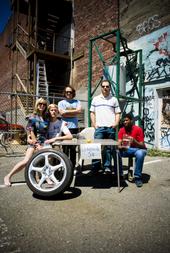 Mt. St. Helens Vietnam Band is going to the mountain.
The Seattle indie-rock band performs a benefit concert at p.m. Saturday, Aug. 15, at the Johnston Ridge Observatory on Mount St. Helens, 2500 Spirit Lake Highway, Toutle.
Proceeds from the unusual event will benefit the Mount St. Helens Institute, the nonprofit arm of Mount St. Helens Monument, a U.S. Forestry site. Money raised will help build new exhibits at the various public observatories at the monument in advance of the 30th anniversary of the volcano's eruption.
Tickets, $25, include entrance to the Johnston Ridge Observatory and other monument areas from 2 to 6 p.m., as well as a guest lecture by Dr. John Bishop. For an additional $10, visitors can take a six-mile, moderately difficult guided hike on the Boundary Trail to Harry's Ridge. Advance registration is required. Information: 360-891-5107.
Purchase tickets here.
Here's a video clip of the band last March at the South By Southwest music festival and conference in Austin, Texas.