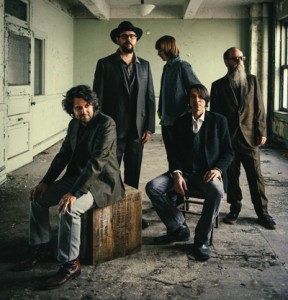 By MIKEL TOOMBS
"It was a blast."
That's Patterson Hood, Drive-By Truckers singer-guitarist, telling us what we already knew about the Triple Door show that was held last May in conjunction with the Seattle International Film Festival screening of the documentary "Muscle Shoals." (The town was, Hood noted, "named after mussels that would pile up at the bend of the river in the old days and that the Native Americans were really into, but, you know, the Alabama schools aren't that good, so they spelled it muscle.")
The movie is a tribute to Rick Hall's Fame Studios and Muscle Shoals Sound, which starting in the late '60s welcomed such greats as Aretha Franklin, who recorded her breakthrough "I Never Loved a Man (The Way I Love You)" there before the sessions devolved into a drunken brawl, and Bob Dylan and the Rolling Stones. And the Triple Door set, celebrating the studios' country-tinged soul sound, was highlighted by the presence of legendary MS bassist David Hood, Patterson's delightfully droll dad.
David Hood noted that the man who hired him (in 1966) for his first job as a recording musician was Marlon Green, "who has been living in Seattle for over 20 years." Not only did Green produce the Percy Sledge classic "When a Man Loves a Woman," the elder Hall insisted, "he is really and truly the writer. But we don't tell anyone."
Well, we can now tell everyone that "Muscle Shoals" will be showing at 9 p.m. Monday, April 21, on Seattle public television's KCTS channel 9. And if that's not enough, Drive-By Truckers will perform Wednesday, April 23, at Showbox SoDo; DBT is touring behind a new album, "English Oceans," which starts off by ripping this joint in the manner of the Stones' Muscle Shoals recordings ("Brown Sugar," anyone?).
Visit the official website for Drive-By Truckers here. And read more about Fame Studios here.
(EDITOR'S NOTE: Mikel Toombs is a frequent contributor to GeneStout.com. Read his recent review of the new Renaissance album, "Symphony of Light," here.)