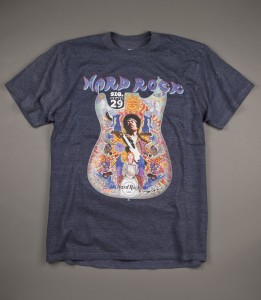 By GENE STOUT
Jimi Hendrix fans can feast on another special collection of Hendrix memorabilia and purchase new Hendrix merchandise beginning Thursday, Feb. 9, at the Hard Rock Café Seattle.
Hard Rock International is celebrating the launch of the company's Jimi Hendrix Signature Series: Edition 29 merchandise in the rock icon's hometown, along with a memorabilia collection that will be on display through March 1 at the Seattle store.
Among the display items are a Hendrix-designed Fender Stratocaster guitar, a pair of boots worn by Hendrix in the late '60s during performances at the Salvation Club in New York City, a custom Gibson Flying V guitar commissioned by Hendrix in 1969, and a songwriting contract between RSVP Music and "Jimmy" Hendrix for the song "No Such Animal," dated June 21, 1966 (this was signed before Hendrix changed the spelling of his first name to Jimi).
The memorabilia complements other Hendrix items currently on display at Hard Rock Café Seattle, including a hat, shirt and purse; a 1969 Fender Stratocaster, and a photo of Hendrix and the Isley Brothers and Curtis Knight.
Hard Rock's Jimi Hendrix Signature Series: Edition 29 T-shirt was inspired by a one-of-a-kind guitar that was conceived by Hendrix and commissioned to commemorate the Hard Rock's 40th Anniversary in 2011. The Jimi Hendrix Signature Series: Edition 29 limited-edition pin is modeled after the Fender Stratocaster Guitar Jimi Hendrix played onstage during his legendary Woodstock performance in 1969. The limited-edition merchandise is available in stores and online with 15% of the retail price benefiting The Fender Music Foundation and Seattle's Jimi Hendrix Park Foundation.
"It would warm his heart to know that his legacy is being honored this way, continuing to have an impact on the entire universe," said Janie Hendrix, Jimi's sister.
"At Authentic Hendrix, we're working to fulfill his vision. Joining our long-term partners Hard Rock International and The Fender Foundation allows us to continue to shape and inspire our communities through music."
Founded in 2005, the Fender Music Foundation supports music education in the country's schools and communities. Read more about the foundation and its programs here.
The Jimi Hendrix Park Foundation, founded in 2006, has been instrumental in creating a 2.5-acre park dedicated to the Seattle guitar legend near Seattle's old Colman School, which houses the Northwest African American Museum. A group calling itself Friends of Jimi Hendrix Park is dedicated to turning the park into a gathering place that will draw visitors from around the globe.
For more information about Hard Rock Cafe Seattle, follow this link.