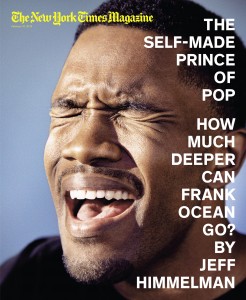 By GENE STOUT
R&B singer Frank Ocean has received six Grammy nominations, putting him numerically in the same league as Kanye West and Jay-Z, each of whom is also nominated for six awards.
Among the major awards Ocean could win at Sunday's Grammy Awards telecast are record of the year, album of the year (for the album "Channel Orange") and best new artist.
The New York Times Magazine has published an extensive profile of Ocean (which will appear in print on Feb. 10) by writer Jeff Himmelman.
"Before 'Channel Orange' was released in July, Ocean was something of a sleeper in the hip-hop and R&B worlds," Himmelman writes in a story that is highly detailed and illuminating.
"Like Ocean in person," Himmelman continues, "the album is challenging. It demands to be taken on its own terms, and in places it puts you to work.
"For a first-time listener, things don't fall into a 'put this on at your party' rhythm until the fifth track, 'Sweet Life,' and even then Ocean makes you stop immediately afterward for one of the album's many nonmusical interludes.
"But once you've taken the entire album in, its internal logic — the interludes, the snippets of found audio, the song order, the sudden toggles between bravado and vulnerability in Ocean's lyric style — begins to reveal itself.
" 'The best song wasn't the single,' Ocean intones at the outset of 'Sweet Life,' and by the second or third time around you find yourself singing along, convinced."
Read the entire article here.