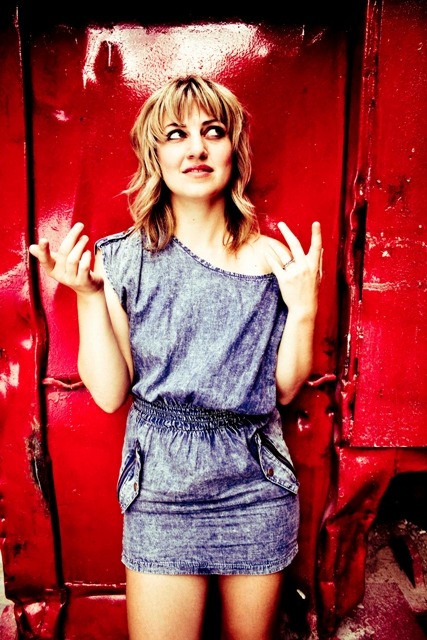 By MIKEL TOOMBS
Seattle's Tractor Tavern is going to Hades this week. Fortunately, or perhaps not, it's just for one night (Thursday, March 29).
That's when Anais Mitchell, a wildly ambitious, Vermont-based singer-songwriter, will introduce a rare (Portland is the only other city on the "tour") live staging of her acclaimed folk opera "Hadestown," which bowed on CD in 2010.
"Hadestown" is a semi-modern retelling of the Orpheus myth, transplanted to an imagined version of this country. (Jean Cocteau's classic 1949 film version, "Orphee," was memorably set in Paris, as well as, of course, the underworld.)
Mitchell's "Hadestown" is "really an archetypal story," she said. "It's not meant to be historically accurate. We've sometimes imagined it could even be futuristic.
"It does draw a lot of inspiration from the 1930s Depression era, though, because Hadestown is a lot like a company town, a place of relative opportunity and security, but also of exploitation and the union of company and government which is terrifying in its implication.
"The Underworld as a mine makes a lot of sense," Mitchell added. "There's wealth and darkness there. The imagery of that Dustbowl era felt really alive and right: the iron and steel, the dirt and grime, the railroad tracks, the dogs, the oil fires. And on the other hand, the excesses of the robber baron types. You know the stuff."
You probably also know the work of the performers who will play the lead roles here (the album featured Ani Defranco and Justin Vernon of Bon Iver), Portlandians Corin Tucker and Nick Jaina. (Appropriately, Tucker was once an Olympian, as one-third of Sleater-Kinney, which achieved a certain mythic status of its own.)
Mitchell and her manager, an old friend of Tucker's, "had been dreaming of Corin as Persephone for a long while," Mitchell said, "and we were so grateful when she agreed to get on board. It's too perfect. Persephone is this strong, subversive, sensual character, sometimes a mother figure, sometimes a comrade.
"Corin is such a legend, her voice and her whole character is so powerful, I really can't wait to hear her sing the songs."
Singing the role of Orpheus is Jaina, "someone I met a few years ago and was immediately taken by his voice. He's another artist who has done a lot of collaborating, His latest record is all songs he wrote, sung by different artists," Mitchell said of "The Beanstalks That Brought Us Here Are Gone," which features lead vocals by 10 different female singers.
"So I felt there was a kindred spirit there. He's also a playwright — the muse must be strong with him. I know he'll be a gorgeous Orpheus."
On Mitchell's current album, "Young Man in America," she plays the various roles, male as well as female, herself. The concept record "was definitely inspired in part by the recession we're currently facing," she said, "and I guess there is a sort of kinship between the albums.
"I read this Rolling Stone article yesterday about the city of Detroit and how a lot of people who had to abandon their houses also abandoned their dogs, and there are tens of thousands of wild dogs roaming the city. That's the world the Young Man inhabits, a wild, feral America."
Ticket information is available at the Tractor Tavern website. Visit Mitchell's website here.
(EDITOR'S NOTE: Mikel Toombs is a frequent contributor to GeneStout.com. Read his recent preview of the New Multitudes' Woody Guthrie tribute here.)