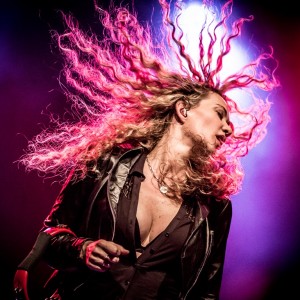 By GENE STOUT
Powerhouse blues-rock singer Dana Fuchs and her band bring their current tour to the Northwest, with shows March 17 and 18 at Dimitriou's Jazz Alley and March 21 at Jazzbones in Tacoma.
Her latest release, "Songs From the Road," is packed with soulful swagger. If you've experienced her new live CD/DVD, recorded at the Highline Ballroom in New York City last winter, you know you're in for a treat.
"It's the voice that grabs you first," says Glide Magazine. "That big, whiskey-flavored tonsil showdown that can kick your butt one minute and soothe your ills the next."
"Songs From the Road" is packed with songs spanning her career, which began in Florida at age 19 and led to New York City, where she endured poverty, addiction, a seedy life of strip clubs and the suicide of her sister. Eventually, she purged her soul on the city's club scene. "Each show is about my connection to the audience," she says. "They are half of the show and a huge part of the whole experience. We all share the same desire for joy, and we have lived our own pain. My goal at every show is to make sure we connect and celebrate life in all its beautiful, painful glory."
Her first big break was a role as Janis Joplin in the Broadway musical, "Love, Janis." That role led to another as Sadie in the 2007 Academy Award-nominated Sony Pictures music, "Across the Universe."
Fuchs went on to record the acclaimed studio albums "Love to Beg" in 2009 and "Bliss Avenue" in 2011 (both on Ruf Records).
Fuchs' tour began last month in Washington, D.C. Get the details about the Seattle shows here and Tacoma show here.