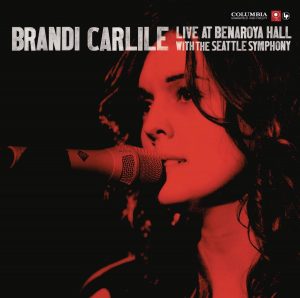 By GENE STOUT
Seattle singer-songwriter Brandi Carlile, whose voice is among the most powerful and stirring in the Northwest, calls her new CD "a rock 'n' roll symphony album."
"It really is the meeting of two worlds, two different kinds of artists who got together for completely different reasons," Carlile says.
"Brandi Carlile — Live at Benaroya Hall With the Seattle Symphony" is due in stores Tuesday, May 3. You can order it here.
The album includes many of her most popular songs, among them "I Will," "Shadow on the Wall," "Dreams," "Turpentine," "The Story," "Pride and Joy," Elton John's "Sixty Years On" and her stunning Leonard Cohen cover, "Hallelujah."
There's also a breathtaking version of Simon & Garfunkel's "The Sound of Silence" by twin brothers Tim and Phil Hanseroth, longtime members of her band (on guitar and bass respectively). Other band members include Josh Neumann (cello) and Allison Miller (drums).
And there's a new song, "Before It Breaks," that's among her best recordings.
The album features arrangements by Sean O'Loughlin (who has arranged for Chris Isaak, Feist, Blue Man Group, Belle & Sebastian and others) and Paul Buckmaster (Elton John, David Bowie and Miles Davis). Buckmaster, who won a Grammy in 2001 for his arrangement of Train's "Drops of Jupiter," also worked with Carlile in 2009 on her third album, "Give Up the Ghost."
Carlile, who got her start playing the Paragon and other suburban Seattle clubs, performs free "in-store" Seattle May 3 shows at 4 p.m. at Cupcake Royale (1111 E. Pike St.), 7 p.m. at Molly Moon Ice Cream (917 E. Pike St.) and 10 p.m. at the Queen Anne Easy Street Records (20 Mercer St.) before launching her spring tour May 5 at the Tower Theatre in Bend, Ore.
Then on July 29, Carlile performs as part of the ZooTunes concert series at Woodland Park Zoo. Read about the series here.
Carlile's next record is a studio album, recorded recently at Bear Creek Studios in Woodinville, Wash.
I talked to Carlile, who still lives in Maple Valley, Wash. (where she grew up), by phone this week. It was like catching up with an old friend.
Q: This was the second time you had performed with the Seattle Symphony. Was it complicated to set up this concert and record it?
Carlile: "Actually no. We used a local recording engineer and producer, Martin Feveyear. He's the owner-producer of Jupiter Studios. Very, very talented man. He mixed 'Brandi Carlile,' my first record, as well as '(Creep) Live From Boston' and 'Live From Neumos.' He's mixed all of our live EPs. And, of course, he's done demos with us. He works tirelessly.
"I actually never even spoke to Martin before the rehearsal for the first show. And I got there and he had set up all the recording equipment. He's really talented. So, no, it wasn't complicated to record. As far as rehearsal goes, that's a whole different story."
Q: How so?
Carlile: "The rehearsal process is really understated. It's funny because it's not really needed. It's not needed for us anyway. Because we know how to play the songs, and the (symphony) charts don't change the songs structurally at all. But the symphony charts are something that you're not used to hearing. And then the symphony doesn't need the rehearsal because they sight-read. They sight-read better than we could even imagine. So when we get there, they already know how to play our songs better than we do.
"The purpose of the rehearsal is really, honestly to prepare the band for exactly how powerful the concert is going to be. When the symphony jumps in during those moments where all of a sudden you're singing a song you sing every night and then 30 more musicians start playing, it's so powerful that it causes you to take pause, and you can't take pause. And that's what the rehearsal really is for."
Q: It's almost like a tsunami, then.
Carlile: "Yeah, kind of." (She laughs)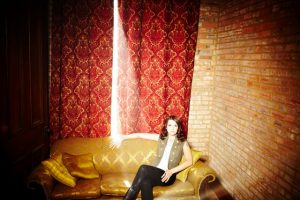 Q: The famous Paul Buckmaster did the arrangement for "Sixty Years On." I understand you had been trying to come up with a unique way of singing Cohen's "Hallelujah," one of your favorite covers, when your manager suggested that you contact Buckmaster.
Carlile: "I kept trying to explain to (my manager) the dark string arrangements I liked from Elton John's 'Tumbleweed Connection' and other early albums. And he said, 'You should get Paul Buckmaster to do some of these.' Well, that was way beyond my imagination at the time. So I thought, 'What if we just get our hands on the charts for 'Sixty Years On?' And that's what we did. We opened the show with 'Sixty Years On.' "
Q: You recorded with Elton John about a year and a half ago. Have you been in contact with him recently?
Carlile: "Every once in a while I shoot him a little email or letter. I sent him a little letter when he was in all that trouble for the 'Jesus is gay' statement. So I shot him an encouraging, supportive letter. Everyone once in a while I pick up the phone and wish him happy birthday or something. But I chicken out almost every time. I'm not much for keeping up relationships with my celebrity acquaintances. It makes me so uncomfortable."
Q: Of all the wonderful songs on this album, are any particularly special or personal?
Carlile: "Oh, yeah. Because my songwriting over the years has become like so much more sacred to me. When I started out, I was definitely writing about experiences that I hadn't had yet. The songs were just based on my influences, songwriters that had written songs before me and that were more experienced and 20, 30 years older than me.
"So it wasn't that I was writing from a place that was derivative. I was writing from a place that was expectant. I'd sit down with my guitar and come up with little riffs, little notes and patterns that I loved, and then I would write lyrics for them.
"And now I really don't do that because I get my (excitement) from performing, and I understand my art in a deeper context. And typically when I write songs now, they are lyrics first and then I have to kind of revert back to my song structure days and figure out how to make those lyrics into a song. So the lyrics I write now are way more important to me.
"When we were doing 'Live at Benaroya,' the song 'I Will' was hard to get through. I've always get a big lump in my throat when I sing that song. And also 'Before It Breaks.' So I'm just a different songwriter now. And the older I get, the more difficult it becomes to deliver those songs casually.
Q: You said in another interview that some of the standards you do are becoming standards of your generation. Which songs in particular?
Carlile: " 'Hallelujah' is going to be a standard that our grandkids, our great-great grandkids will learn to sing in church. It's one of those really, really special songs. The thing that's going to make it that, besides that it's so great, is that everyone knows about it because hundreds of songwriters have been moved by that song and have covered it. And that's just something really important that we do in every generation."
Q: When did the Hanseroth twins begin singing their drop-dead gorgeous version of "Sounds of Silence"?
Carlile: "I first walked backstage and heard them doing it about a year and a half ago. Every time I would hear it I was stunned. They were doing a lot to warm up their voices up before a show. It would draw the openers out of their dressing rooms. They'd be like, 'What the hell is going on?' It's just creepy. They sound like the same voice and their vibrato is exactly matched up. They sound like angels.
"So I said, 'You guys have to start doing this in the show.' And they were like, 'Well, you have sing harmony or pick up a guitar.' And I said, 'No, no, no. I need to sit on a chair backstage and watch you do it.' They really had a hard time with it. They're so unassuming. They hate to be in the spotlight. I said, 'Please, you guys, this has to become a part of our show.' Then everyone fell in love with it. Now they're learning a couple of new songs to do by themselves."
Q: Your song "The Story" was covered last year on "American Idol." What did you think?
Carlile: "I get such a kick out of it. I'm never more proud of our songs than when someone else is singing them. It doesn't matter if someone does them better or worse or just different. All that matters is that someone else cared enough about that song to learn the words. When I heard that song on 'American Idol,' I was really proud about writing it."
Q: Last year, you were invited to join the lineup for the Lilith Fair tour, which unfortunately was cut short. But you didn't play at The Gorge.
Carlile: "I wanted to play there so bad because it's been such a big part of my life. I went to all the Lilith Fair shows at The Gorge. I went to Mary Chapin Carpenter, Rod Stewart, Page and Plant, Matchbox Twenty and tons of other shows while I was growing up. So I really wanted to play there.
"But I did get to do a couple of Lilith Fair shows in California last year, and it was a really moving experience. It was just a huge thing for me."
Read more about Carlile by visiting her Web site here.