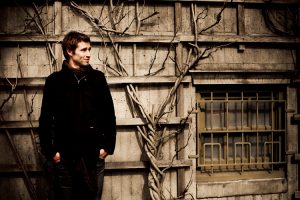 By GENE STOUT
Imagine a live, personalized concert for a sick child – a very direct form of music therapy — delivered right to the hospital room via a video streaming website.
That's the concept behind the Melodic Caring Project, which launches with a live concert by Seattle artists Bryan John Appleby and Levi Ware at 7 p.m. Thursday, March 29, at Fremont Abbey Arts Center, 4272 Fremont Ave. N. The concert will be broadcast live via Ustream, a video streaming website, to a patient at Seattle Children's Hospital.
The patient will be able to watch from a hospital bed. And via a live-chat feature on the Ustream.tv page, family members and friends can join in, offering messages of love, support and encouragement. The service is free to the patient as well as the hospital.
The not-for-profit Melodic Caring Project, a 501c3 charity, was founded by Levi and Stephanie Ware.
"The power of music to heal is well-documented, but often underserved," MCP president Ware says. The goal is "to make music therapy an easily accessible part of healing for kids today."
The public is welcome to attend the concert, with a suggested donation of $10 a person to support the project. Doors open at 6 p.m.
Watch a video of Ware and his band performing at the Rendezvous in Seattle's Belltown district:
The Melodic Caring Project evolved from an August 2010 benefit concert in which Ware and other musicians performed for Kaydee Curbow, a young cancer patient. Since Kaydee wasn't able to leave the hospital because of her susceptibility to infection, Ware came up with an idea to stream a personal concert that Kaydee and her mother could watch from the hospital room.
"Our main objective is to offer a service that is streamlined for easy implementation into hospitals, which benefits not only the patient but also caters to the core values of the hospital and its dedication to patient care," Ware says.
"We're making this happen by developing a simple 1-2-3 step process that offers ease, accessibility and user-friendly streamlined technology built upon an established and diverse network of musicians, hospitals, patients and sponsors who support us.
"Beyond that it makes each patient a rock star in that they become the center of attention at their own concert."
To learn more about the event, which includes a silent auction, visit the Melodic Caring Project.
To learn more about the artists, visit Appleby's website here, and Ware's site here.
Follow this link to Ustream.tv.