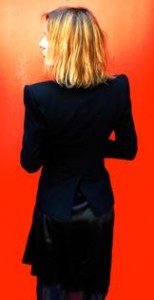 By MIKEL TOOMBS
She's been nominated for two Grammys, under both her Christian name Leslie and her self-adopted one, but Sam Phillips has never won the award.
Now, in a ceremony to take place May 5 at Seattle's 415 Westlake (maybe you held your wedding reception there), Phillips will be the recipient of the eighth annual Denise Levertov Award.
This prestigious honor is "named after a famous Anglo-American poet, and Christian convert, who spent her last years in Seattle," says Gregory Wolfe, directory of Seattle Pacific Unversity's MFA program in Creative Writing and editor of IMAGE, "the leading journal of contemporary art and literature that grapple with religious faith."
Phillips has long grappled with faith, turning her back on a successful career (as Leslie Phillips) in Christian Contemporary Music (CCM) to follow a highly rewarding, if not well-rewarded, path as a strikingly talented singer-songwriter, until recently in league with producer T Bone Burnett, now her ex-husband.
"Sam Phillips richly deserves this award," Wolfe says, noting that early in her career she "found something false and dishonest and prepackaged about the reiligion and ideology demanded by the CCM industry.
"She dropped out of the CCM world altogether and re-emerged as Sam Phillips, who wrote exquisitely crafted songs – songs whose lyrics were mysterious and ambiguous, undergirded by music that was beautifully made originals, not pop song formulas.
"In her songs faith is not opposed to doubt," Wolfe adds, rather "it haunts the edges of her world as an experience of grace in the midst of the messiness of life."
Phillips haunted the edges of the pop-music world beginning in 1989, with her aptly titled secular debut "The Indescribable Wow," and went on to create such underappreciated albums as "Martinis and Bikinis" and the cabaret-inspired "Fan Dance" (2001). She also contributed music that undergirded the TV hit "The Gilmore Girls."
Currently, Phillips is creating songs, five EPs and a full-length album's worth, that are delivered digitally via subscription to her The Long Play project via this link.
And on May 5 at 7 p.m. she'll be at 415 Westlake (Ave. N.) in Seattle "to sing a few songs, chat about art and life, and to receive an award from Image magazine," Phillips herself writes. "It's a free event so I hope to see you there."
To RSVP, click here.
(EDITOR'S NOTE: Seattle-based freelance writerMikel Toombs is frequent contributor to GeneStout.com. Read his recent post on Yellowcard here.)