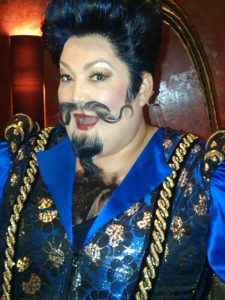 It was billed as a ZinZanniversary! — a riot of song, dance, stunts, antics and comedy celebrating Teatro ZinZanni's 10th anniversary.
The anniversary celebration and benefit auction Sunday night at the ancient European spiegeltent at 300 Mercer St. reunited original chanteuse Ann Wilson (of Seattle rock band Heart) and original stars Kevin Kent and Christine Deaver (in a variety of comic personas) in the debut performance of "Beaumont and Caswell — Together Forever, Again!"
All the proceeds from the auction went to fund scholarships to Camp ZinZanni, a summer camp for circus arts.
The production of European-style cabaret and cirque continues through Jan. 17. You'll find ticket prices and information at the ZinZanni Web site.
I've seen or reviewed a half dozen Teatro productions in the last 10 years, and this is easily my favorite. Deaver and Kent, as the stars of "Beaumont and Caswell," are gender-bending comedians who tease, titillate and terrorize the audience with outrageous, bacchanalian bits.
"If you were naked on stage," Kent asked Deaver, "what part of your body would you cover first?"
Her answer: "My face."
Deaver was brilliantly funny as Casanova, especially when a male audience member became his/her plaything. Deaver dubbed him "Panini" or "my little sandwich" (she nearly ate him alive after dressing him up as a girl).
Other performers included musical director Norman Durkee (leader of The Orcehstra DeVille), acrobats Erika & Andrew, singer Francine Reed (who was born to sing "Let the Good Times Roll"), circus artists Le Petits Freres, singer-comedian El Vez ("the Mexican Elvis"), and contortionist and aerialist Vita Radionova, who juggled more than a dozen hoops in an extraordinary segment that brought cheers from the crowd.
El Vez, in a tiger costume with tail, tortured a mature, good-humored female patron with his riotous "virgin sacrifice" routine, before launching into a raucously funny "Heartbreak Hotel."
Among those attending the anniversary benefit were Mayor Greg Nickels, Deputy Mayor Tim Ceis, Seattle City Council members Tom Rasmussen and Jean Godden, and Seattle City Council candidate Sally Bagshaw.
One Reel's Norm Langill, Teatro ZinZanni's artistic director, was also celebrating his upcoming 60th birthday, dressed appropriately in vintage formal wear.
Wilson closed the show with powerful, house-rocking versions of Billie Holiday's "God Bless the Child" and Jackie DeShannon's "Put a Little Love in Your Heart."