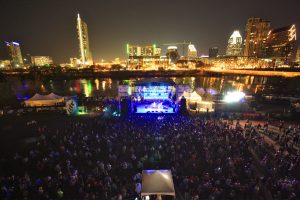 With more than 2,000 musical acts from across the country and around the world performing on more than 80 stages in downtown Austin, Texas, the SXSW Music and Media Conference is a mind-boggling week of sonic and sensory overload.
Now in its 24th year, SXSW brings together artists, media, managers, promoters and music fans — all in search of new sounds, trends, talent and technology. Hence, the official SXSW slogan: "Tomorrow Happens Here."
Those attending panel discussions will ponder such topics as: "Global Music Marketing: How to Reach Fans Worldwide," "Does Rock 'n' Roll Belong in a Museum?" and the intriguing "Elvis at 75."
I'll be arriving in the Texas capital Tuesday (March 16) with plans to report on some of the key events and offbeat experiences that make SXSW a unique experience for the music lover, whether professional or party animal. There's a lot to take in, and well-laid plans often get revised multiple times.
Emily Robison and Martie Maguire of the Dixie Chicks will debut new music under the name Court Yard Hounds Thursday (March 18) at Antone's (the group has been added to the Lilith Fair lineup). Another veteran, Shelby Lynne, will perform new music in two separate shows. Her upcoming CD, "Tears, Lies, And Alibis," is due April 20.
The Austin Music Awards on Saturday (March 20) will feature — among many others — the Texas Sheiks with Geoff Muldaur, Jim Kweskin, Bruce Hughes, Cindy Cashdollar, Floyd Domino, and Suzy Thompson, John Nicholas, John Chipman.
But veteran artists are easily outnumbered by up-and-coming bands and musicians in search of national and even international recognition. It's like the Olympics of live music.
Seattle will have a strong presence at the conference, with a SXSeattle showcase Saturday (March 20) at the Beauty Bar. Among those performing will be Visqueen, Moondoggies, The Lonely Forest, The Cafe Singers, The Staxx Brothers, Grand Hallway and the Maldives.
Smokey Robinson will give the keynote address on Thursday (March 18), but bands little known outside their hometowns will generate the buzz and perhaps a few of them will become tomorrow's stars.
For a full schedule of everything happening at SXSW — at least officially — visit SXSW.com.