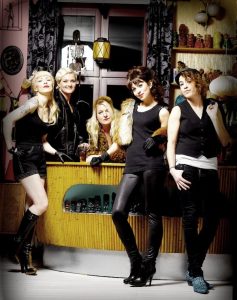 AUSTIN, Texas — Norwegian "girl group" Cocktail Slippers was one of dozens — if not hundreds — of bands closing out the first full day of music at the 2010 South by Southwest music conference, known as SXSW or simply "South By" to those who make the trek each year to Austin for the one of the biggest music-industry gatherings in the world.
The feisty fivesome, whose Norwegian heritage might make them especially popular in Seattle, paid tribute to '60s girl groups with a spirited 45-minute set at Submerged, a cramped nightclub across from the Austin Convention Center, ground zero for the massive conference.
Cocktail Slippers was one of many buzz bands performing Wednesday (March 17), attracting a shoulder-to-shoulder, St. Patrick's Day crowd of beer-hoisting conventioneers looking for a good time, as well as new sounds to discover. Though the show was part of an all-female "Girls Rock" lineup that might have attracted a predominantly female crowd, it was men over 50 who packed the group's colorful show.
Kicking off its set with the old Rolling Stones hit, "Let's Spend the Night Together," Cocktail Slippers saluted the past with freshness and energy. They are the Shangri-las reinvented.
SXSW is so enormous — attracting nearly 2,000 bands and many thousands of attendees — that the day began with a panel discussion titled "Successful SXSW: The Tao of the Conference," offering strategies for personal and business-related connections among musicians and those who follow them.
At the SXSW trade show, the theme of connecting was the focus of dozens of businesses that use social networking to promote careers and keep musicians and fans in touch with each other, such as Taltopia.com. At a game-like International Speed Dating station, attendees from around the world were encouraged to make contact with like-minded music-business people in other countries during nine different sessions.
At a "green touring" discussion, panelists offered advice to touring musicians wishing to save the environment — and save money. A simple bit of advice for bands on van tours: just slow down.
Another panel titled "How Will We Listen to Music in 2020" suggested that music fans won't "just press play" in the future, but will interact with bands willing to collaborate with them in the creation of new music. And interactive games such as Guitar Hero may have a great influence on this emerging trend.
The day's most entertaining panel was a live interview with members of Cheap Trick, the beloved power-pop band founded in 1974 in Rockford, Ill. Band members Rick Nielsen, Robin Zander and Tom Petersson talked about a band that began in the industrial Midwest, but developed creative ties to Britain after Nielsen became obsessed with Melody Maker magazine.
A punk in his early days, Nielsen conceded that he is now regarded as a "voice of reason" among fellow musicians. "And I hate it," he said.
In the beginning, the band often changed names after disasterous gigs, but kept the name Cheap Trick when it stopped getting fired. Nielsen said the band succeeded in part because "we were too dumb to quit."
Cheap Trick is scheduled to perform Friday (March 19) at the Auditorium Shores stage on Austin's Lady Bird Lake.