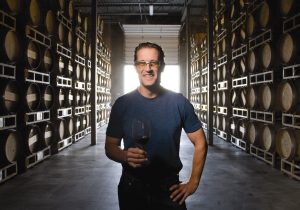 By GENE STOUT
If you've seen the comical 2004 movie "Sideways" about the exploits of two buddies on a wine-country getaway, you won't forget Miles Raymond's blistering remarks about Merlot wines (and his star-struck endorsement of Pinot Noir).
"If anybody orders Merlot, I'm leaving. I am NOT drinking any (expletive) Merlot," Miles tells his friend Jack before they go on a double date with two attractive women.
It was a humorous moment that even Merlot fans found amusing, though Miles' slam temporarily sent sales of the beloved red wine down the drain.
Miles clearly didn't know what he was talking about. A fine, well-aged Merlot can be a spectacular experience, as any fan of Bordeaux wines can attest.
Fast forward to 2011.
Walla Walla's Northstar Winery, one of Washington State's top producers of Merlot, is developing what it hopes will be the state's best Merlot, whimsically dubbed "The Big Dipper"– a wine to rival a classic "Right Bank" Bordeaux in terms of finesse and age-ability. Something astronomical.
That's a pretty lofty goal, but Northstar has a reputation for superb Merlots, and with talented winemaker David Merfeld at the helm, there's an excellent chance the Walla Walla winery will deliver on its promise — and prove Miles simply had a bad attitude.
"Can a Merlot from Washington State rank among the finest in the world?" teased a recent news release from Northstar, owned by Ste. Michelle Wine Estates. "Would it be drinkable for years, even decades, to come? What would it take to craft such a wine?"
As a fan of Merlot wines, as well as a student of wine marketing, I've been intrigued by The Big Dipper project. Merlot is known for its robust smoothness and plum- and berry-like flavors. And despite what Miles (played by actor Paul Giamatti) said in "Sideways," Merlot is a noble varietal with a devoted following. In fact, Miles closed the movie by downing a bottle of 1961Chateau Cheval Blanc, a prized, merlot-based wine he had been saving for a 10th wedding anniversary that never happened. Perhaps it was lingering heartbreak that colored his view of Merlot.
Merfeld, whose nickname is "Merf," is creating the high-end Big Dipper Merlot from premium grapes sourced in Walla Walla and other Washington wine-growing areas. The wine is expected to reach the retail market in the fall of 2012 and will likely sell out. Merfeld's mission is to create a collectible, knock-your-socks-off Merlot for discriminating wine enthusiasts such as himself — a wine that's "built to last," in his words.
"I want to make a wine that I can drink on my porch in 10, 15, 30 years," Merfeld said in a phone interview.
"It's going to be drinkable on release, but it's going to be a bigger wine that's meant to be in your cellar. We'll show people around the world what Washington Merlot can do."
The Big Dipper project is a blend of expert winemaking, skillful marketing and great storytelling.
Providing the storyline for the Merlot project is award-winning Seattle food writer Leslie Kelly, who has been writing "The Big Dipper Chronicles" for the Northstar Web site since 2009. She is now working on her seventh chapter. Check out her blog here.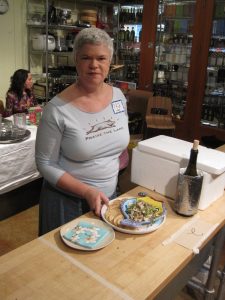 "In our everyday worlds, people just buy a bottle of wine and drink it for dinner that night," Kelly said by phone. "It's very exciting to be writing about something that's so different."
"Consumers and critics agree," Kelly writes in the first installment. "Northstar Winery in Walla Walla makes great Merlot. So how do you make a great wine even better?
"Northstar winemaker David 'Merf' Merfeld set his sights sky high for The Big Dipper Project, the winery's inaugural effort to make Washington State's best Merlot starting with the 2009 vintage.
"An ambitious goal, yes, but Merf has been working toward creating this ultra-premium, limited-production wine almost since the day he stepped into the top spot at Northstar in 2007."
Kelly describes the chronicles as a long-term story-telling project.
"(Ste. Michelle) has been very supportive of me using my own voice in the telling of the story," Kelly said. "And in a way, that's what I've always loved about wine and food writing. You learn something new every day. There's just so much to know."
It's no surprise that Kelly is a Merlot fan who loves to pair the wine with some of her favorite foods.
"I like to serve it with barbecue, with stuff that I've roasted," she said. "Roast duck, roast chicken. It's also great with any kind of pasta."
Visit Kelly's Whining & Dining blog here.
Despite his extensive experience as a winemaker, Merfeld has an endearing sense of innocence about the Big Dipper project.
His inspiration was actually a 1983 Cold Creek Cabernet Sauvignon by Chateau Ste. Michelle that someone had squirreled away.
"I was sitting around with a bunch of my buddies and other winemakers at our monthly tasting and we sampled a 1983 Cold Creek Cab from Ste. Michelle Wine Estates," he said. "And I thought, 'Wow, this wine is holding up, it's amazing. We can do this.' We were looking at the back label and it tells you when it was picked, the brix (sugar level), and this and that. And we're saying, 'You know, we could do something like this with a Merlot.' And that's kind of where the vision started."
So what does it take to make a ground-breaking, limited-release Merlot?
"I think you've gotta think outside the box and go back to some of the old practices," Merfeld said.
"Small, hands-on (production). But the bottom line is it goes back to our vineyards in Washington State. It can sound cliche, but it really is a great climate for growing fruit, and it can't be said enough.
"That's where this project is coming from. It wouldn't be possible if we weren't in Washington State and using the amazing fruit we get here. We're just taking a few extra steps to make it into a great product and do some barrel fermentation and some concrete fermentation — and do some things outside the box.
"It couldn't be done without the growers that we have in the state."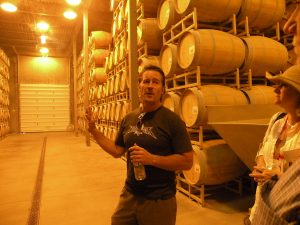 Merfeld put more than 300 miles on his truck touring the vineyards from which he would source grapes for the Big Dipper Merlot.
"We give every lot that we bring in an opportunity to make it into the Big Dipper," Merfeld said, "but we do obviously pick some of our core vineyards, which include Stone Tree, Cold Creek, Beverly and others."
What does he look for in the grapes?
"Mainly the sugar, the acid and the tannin structure," Merfeld said. "We use a lot of science and testing and numbers and evaluation and sampling. But it comes down to taste. And what I like. It's basically a grape that's maturing to the point where it is appealing to a bird to take and disperse it. It's as simple as that.
"When the seeds turn brown and it's nice and plump and fat and juicy and full of sweetened sugar, that's when it's ready to pick."
Grapes are picked earlier to assure lower alcohol and higher acid, improving age-ability.
The finished product is influenced by the winemaker's distinctive style.
"Every winemaker is different," he said. "Like every chef is different. Otherwise, it'd be boring."
Merfeld's "tools" include a small basket press, French oak barrels specially made for fermenting red wine and a concrete fermenting tank that Merfeld designed himself. The tank will promote cool, consistent fermentation.
The basket press holds about 300 to 400 pounds of grapes.
"You fill it by hand and shovel into it," Merfeld said. "But it's really gentle on the grapes, and it produces a nice-quality product. And you can do small-scale production, like for The Big Dipper."
The concrete fermenting tank, dubbed the "C-4," resembles a hot tub and is a lot less expensive than most commercial concrete fermenters.
"I just went down to my local concrete guy here and had him make me one for $300," Merfeld said. "My boss was very impressed and pleased when I told him how little I spent. When I was in school, I worked in construction. To me, concrete is concrete. It doesn't have to be from France or California. And in terms of terroir, the aggregate that's in this concrete is from the Walla Walla area.
"But it's nothing new. I didn't invent this. It's just another layer, another spice in our spice rack to make this wine distinctive and unique. So we have a few lots that are concrete fermented. I don't know if they're going to make the blend yet, but we like them, so we'll see."
Merfeld is also using French oak barrels.
"It's fabulous," he said. "I'm really pleased with the oak fermentation. We bought more barrels this year. We doubled it to eight barrels."
Merfeld paid his dues in the beer industry before moving to wine.
"I got into beer with my brother-in-law," Merfeld said. "We started out making beer in the garage, and I discovered I had a passion for it."
Merfeld got an apprenticeship from the American Brewers Guild and then began working with Bert Grant, the late microbrewery pioneer and operator of Grant's Pub and Yakima Brewing, owned by Ste. Michelle Wine Estates. His work with Grant led to an invitation to learn wine making at Northstar.
"I jumped on that in 2001 for my first harvest and never looked back," he said.
Merfeld is bullish on Washington State wines.
"I travel a lot. I just got back from New York, where we had a Taste Walla Walla event. People expect a certain quality from our wines. Whereas a decade ago, they didn't know where we were from. There are people who search out our wines. It's a good time to be in the industry."
Reminded of the movie "Sideways," Merfeld chuckled.
"I like to remind people that the irony of the movie is what he drank at the end, a Merlot-based wine. It was his prize possession. But it's amazing how a movie can influence society so much."
Merfeld is hoping for a sequel to "Sideways," with Merlot as the star.
"Miles can have his Pinot Noir. I'll drink my Merlot."
For another perspective on Washington Merlot, read Lettie Teague's column in Food & Wine.
To read more about Washington State wines, visit the Washington Wine Commission Web site.