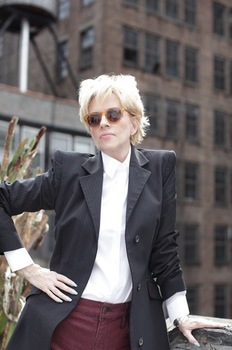 By MIKEL TOOMBS
I now declare this Guilty Pleasures Day:
"Mumble mumble mumble on the Lower East Side."
That's about all I half-remember from what I believe is the title song of the 1979 debut album by Ellen Foley (who apparently now lives on the Upper West Side of New York City), "Night Out," which is the guiltiest pleasure of my music-listening career. So guilty, in fact, that I jettisoned it from my turntable (that was the favored mode of expression, back in the day) soon after I acquired it.
Subsequently, Foley had enough savvy to land roles in the hit TV series "Night Court" (she was replaced by Markie Post) and Stephen Sondheim's Broadway-bound "Into the Woods" (Bernadette Peters).
However, her portrayal here of a woman with no brains in her head had been perfected in her duet with Meat Loaf on the delightfully epic "Paradise by the Dashboard Light" (Karla DeVito in the video). (Not to be redundant, but Foley included the Glimmer Twins' "Stupid Girl" on the album.)
Apparently recorded, by Mott the Hoople's Ian Hunter and Mick Ronson, in Springsteen's Basement, "Night Out" (which I insist originally was titled "Nightout") was followed by a Mick (The Clash) Jones production (presumably, he was her boyfriend at the time), the Edith Piaf-esh "The Spirit of St. Louis," about which the less said the better.
Foley has a new, roots-rock-inspired album, "About Time," and a new band, but live performances are infrequent. Listen to songs from her new album here. She'll also star in an independent film, "Lies I Told My Little Sister," to be released later this year.
Click here for the latest news about Foley, with a link to her biography.
(EDITOR'S NOTE: Mikel Toombs is a frequent contributor to GeneStout.com. Read his recent review of Suzy Bogguss' Merle Haggard tribute here.)