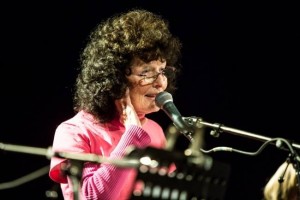 By MIKEL TOOMBS
As a dental hygenist, a trade she still plies at age 70, Linda Perhacs has cleaned the teeth of "Cary Grant, Paul Newman, Henry Fonda and his family. I mean," she told NPR this month, "Dinah Shore."
As a psychedelic-folk singer, she's released two albums, "Parallelograms" (1974, reissued and expanded in 2000) and "The Soul of All Natural Things," out this month on Asthmatic Kitty.
Yes, that's 44 years between recordings, and in that time she's gained a cult following and been embraced by Daft Punk (it picked up on her song "If You Were My Man").
As you might have guessed, Perhacs, who lived in Topanga Canyon when "Parallelograms" was created, embraced the hippie aesthetic: "Timelessness also matches transcendence," she also told NPR.
"I happen to be passionately in love with the universe and who I feel created it. And when you love the universe like I do, you are lining up with eternal things or things that certainly are eons old; you are not lining up with fads."
Linda Perhacs performs in Seattle at 8 p.m. Saturday, March 22, at the Fremont Abbey Arts Center, 4272 Fremont Ave. N.
Visit her official website here.
And read a fascinating NPR profile of Perhacs, "A Most Unlikely Rock Star," here.
(EDITOR'S NOTE: Mikel Toombs is a frequent contributor to GeneStout.com. Read his recent review of Suzy Bogguss here.)