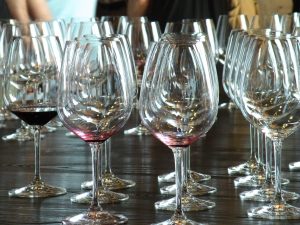 By GENE STOUT
A Nov. 25, 2011, Seattle Times editorial salutes the expansion of Taste Washington into a two-day event in 2012, further raising the profile of Washington State's "robust" wine industry.
"Washington is working hard to maintain the aerospace industry's vigorous presence in the state, but another event in the news is a reminder of the rich dynamic that sustains the economy," the Times writes.
Produced by the Washington State Wine Commission in collaboration with Seattle's Convention and Visitors Bureau, the expanded Taste Washington is slated for March 31 and April 1 at CenturyLink Field Event Center.
According to the Times, Taste Washington already draws more than 3,000 wine and food buffs, who sample the products of more than 200 state wineries and more than 60 regional restaurants.
The Times cites a four-year-old study (soon to be updated) that calculated the annual economic impact of the state's wine industry in the United States at $4.7 billion. Washington State boasts nearly 750 wineries and 350 grape growers, which "nurture an economic food chain that creates and touches 19,000 jobs, from the vineyard to the retail outlet."
Quoting wine commission spokesman Ryan Pennington, the editorial also notes the Washington wine industry's potential for greater overseas expansion.
"South Korea last week ratified a free-trade deal with the U.S. that lifts a 15 percent tariff on wine," the Times writes. "Washington Sen. Maria Cantwell notes that during fiscal year 2010, 24 percent of the wine exported from the state went to South Korea."
Read the entire Times editorial here. And visit the Washington Wine Commission's website for more information about the 2012 event.