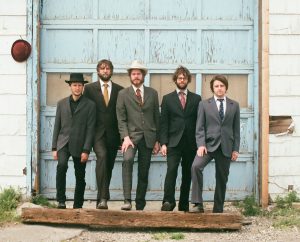 By MIKEL TOOMBS
"I've got these blues that I just can't lose."
Welcome to the gloriously gloomy Americana of the aptly named The Deep Dark Woods, a Canadian quintet (and who would know more about Americana than five guys from Saskatoon?) that features not just one, but two pedal-steel guitarists (misery loves company).
The Deep Dark Woods, which performs Sunday, Nov. 27, at Seattle's Tractor Tavern, even leaves a trail of dead on its new album, "The Place I Left Behind" (Sugar Hill), including both lovers ("Mary's Gone," with "the cold wind blowin' in her hair") and haters (the war-born "The Banks of the Leopold Canal").
The band harkens back to the haunting early work of The Flatlanders, only with the odd touches of the Mellotron instead of the electric saw, Creedence Clearwater Revival ("Back Alley Blues" recalls "Wrote a Song for Everyone") and, at its most sweeping, fellow Canadians (well, mostly) The Band.
For ticket information, visit the Tractor Tavern website.
Mikel Toombs is a frequent contributor to GeneStout.com. Read his recent review of Adele here.