By GENE STOUT
All-female AC/DC tribute band Hell's Belles opened the EMP Museum's new AC/DC exhibit with an explosive performance April 27 at Sky Church.
Fans lined up around the block to attend the show and hear such AC/DC songs as "Thunderstruck" and "Dirty Deeds Done Dirt Cheap." The band led by Adrian "Angus" Conner (who plays the role of guitarist Angus Young) and Amber Saxon, a native Australian, performed in front of an eye-popping, floor-to-ceiling LED light show featuring huge flames and wild graphics.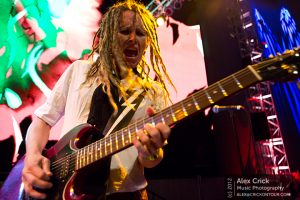 The exclusive North American showing of "AC/DC: Australia's Family Jewels," curated by Arts Centre Melbourne of Melbourne, Australia, will continue through Sept. 19 at the EMP Museum. Presented in association with the Western Australian Museum and AC/DC, it's the only fully endorsed exhibition on the famous hard-rock band.
The exhibition features more than 400 artifacts, including photos, instruments, 35 years of concert posters from shows around the world, letters, lyrics and costumes. There's also an extremely rare Angus Young schoolboy outfit and his 1975 homemade "Super Ang" costume, complete with gold and red satin cape.
Read my interview with "Family Jewels" curator Tim Fisher in the Seattle Times. And visit the EMP Museum website here.
(EDITOR'S NOTE: Seattle photographer Alex Crick is an occasional contributor to GeneStout.com. Visit his website here.)