By GENE STOUT
Iron Butterfly needs no introduction to fans of classic rock. The legendary psychedelic rock group's 17-minute-long 1968 hit song, "In-A-Gadda-Da-Vita," helped propel the album of the same name to multi-platinum status. To date, the album has sold more than 25 million copies and is ranked the 31st best-selling record in the world.
Formed in 1966 in San Diego, the band today features early members Ron Bushy on drums and Lee Dorman on bass guitar. Last October, Rhino Records released a 22-song live album of the band's 1968 concert at the Fillmore East.
The current incarnation of Iron Butterfly, has been on tour this year in Europe and the United States, is headlining a concert Saturday, May 12, at ShoWare Center in Kent. Doors open at 6:30 p.m., and music begins at 7:30 p.m.
Sharing the classic-rock bill are Magic Carpet Ride (an eight-member band inspired and licensed by Steppenwolf) and The Xperience, a Jimi Hendrix tribute featuring RG Valentino, who has done guitar arrangements for Lenny Kravitz, Quincy Jones, Prince and George Clinton, among others.
The show celebrates the heyday of psychedelic rock.
In addition to Bushy and Dorman, Iron Butterfly includes Charlie Marinkovich (lead guitar and vocals) Martin Gerschwitiz (keyboards, violin and background vocals) and
Glen Bui, guitarist for Magic Carpet Ride, performed with several members of Steppenwolf before the band's breakup in 1976 and has backed such artists as Waylon Jennings, Roger Fisher (Heart), Tower of Power and Eddie Money. He's also co-founder of Pegasus, which recorded for Epic Records.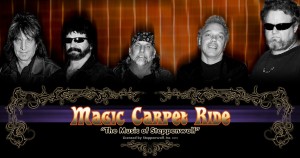 Magic Carpet Ride's show features such songs as "Born to Be Wild," "Rock Me," "Pusher" and of course, "Magic Carpet Ride."
Talk about a night of classic American rock. With a light show created by Northwest Laser Light Show, this concert promises to be a colorful nostalgia trip for concertgoers of all ages. And ShoWare Center will be divided in half, allowing for a more intimate experience for concertgoers.
Tickets can be purchased at the ShoWare box office, 625 W. James St., Kent; online at ShoWareCenter.com, or by phone at 866-973-9613.
Read more about Iron Butterfly on the band's official website. Learn more about Magic Carpet Ride here. And visit The Xperience's Facebook page here.