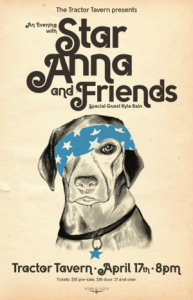 By MIKEL TOOMBS
Think globally, buy locally.
That seems to be the current philosophy of West Seattle's Star Anna, who last October headlined the Seattle Symphony Orchestra's Sonic Evolution program at Benaroya Hall.
Indeed, the sparkling singer-songwriter, part Neko Case and part Pearl Jam (Mike McCready is an active fan), is not financing her latest attempt at world domination (well, one can dream) through that ubiquitous fundraising mechanism, Kickstarter.
Rather, she's putting on a benefit show (for her new album) at 8 p.m. Wednesday, April 17, at Ballard's Tractor Tavern, featuring three sets: solo acoustic, trio and full band, with her Laughing Dogs.
"I started making this record in September," emails Star, who got her start playing drums in an Ellensburg punk band called No Continuous Standing, "and have poured my everything into it with a group of amazing folks who have also put a lot of faith and support into getting it made. Now, more than anything, I want to share it with everyone.
"I thought about doing a Kickstarter campaign but there is a bit of uncertainty in it. I like the idea of people coming to the show (on April 17), being a part of the evening, being able to purchase limited edition items and being able to take them home with them that night. It feels more personal, more intimate."
(EDITOR'S NOTE: Mikel Toombs is a frequent contributor to GeneStout.com. Read his recent post on Buenos Aires' 34 Punaladas here.)