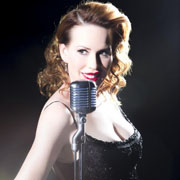 By MIKEL TOOMBS
"Tony Randall. Mary Tyler Moore. Molly Ringwald."
"Molly Ringwald, Cordelia, King Lear, Godard."
The first reference is to Bikini Kill's great riot-grrrl anthem "Tony Randall," the second to a video of a scene from legendary director Jean-Luc Godard's not-so-great 1987 film version (the manual typewriter lets on that's it's not a period piece) of "King Lear," in which former "Facts of Life" co-star and John Hughes muse Ringwald plays Cordelia to mobster dad "Don Learo" (Burgess Meredith).
Molly, who has added a 9:30 p.m.set to her Monday, April 15, stint at Seattle's Jazz Alley, is no stranger to cinematic Shakespeare: she co-starred delightfully alongside John Cassavetes, Gena Rowlands and Susan Sarandon in Paul Masursky's "Tempest," his '82 take on the bard's "The Tempest."
Also, Ringwald now finds herself at home in French movies, in French even, although Godard's "King Lear," which also features Woody Allen (!), is in English.
By the way, the Jazz Alley shows are release parties for "Except … Sometimes," Ringwald's debut album (released by Concord Records on April 9). The CD is an homage to the Great American Songbook, capped with a new version of "The Breakfast Club" classic, "Don't You (Forget About Me)."
Molly Ringwald performs 7:30 and 9:30 p.m. Monday, Apr. 15, at Jazz Alley, 2033 Sixth Ave.
(EDITOR'S NOTE: Mikel Toombs is a frequent contributor to GeneStout.com. Read his previous post on Ringwald here.)