By GENE STOUT
Singer-songwriter Amos Lee, who just began a 29-city tour, performs Monday, Feb. 17, at the Paramount Theatre.
The show features songs from "Mountains of Sorrow, Rivers of Song" (Blue Note Records), the followup to Lee's 2011 album, "Mission Bell," which gave him a nice ride on The Billboard 200 album chart, debuting at No. 1.
The Philadelpha-bred roots-rocker's latest collection of songs has a Dylanesque flair, with rich, emotive lyrics and a compelling blend of folk, blues and rock. The instrumental mix includes mandolin, banjo, steel guitar and Dobro.
The storyteller in Lee comes through in such songs as "Loretta," "Chill in the Air," "Tricksters, Hucksters and Tramps" and lead single "The Man Who Wants You," which he performed on "The Tonight Show With Jay Leno."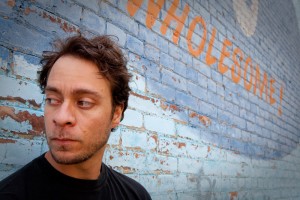 "I don't want to see you again/ I don't want to feel your breath," Lee sings in the heartbreaking "Chill in the Air." " . . . And I'll do my best just to forget the dreams we've dreamt."
Producer Jay Joyce, who has worked with Little Big Town, Eric Church, Emmylou Harris and the Wallflowers (and played guitar for The Wallflowers, as well as John Hiatt, Radney Foster and even Iggy Pop), brings his special touch to the album. Joyce is featured on "Johnson Blvd.," "Chill in the Air," "Loretta" and "Mountains of Sorrow," playing 12-string guitar.
Guest musicians on "Mountains of Sorrow" included harmonica player Mickey Raphael of Willie Nelson's band and saxophonist Jeff Coffin of the Dave Matthews Band.
"I enjoy the unplanned things that happen in the studio," Lee said in an interview with Chuck Dauphin in Billboard magazine last fall. "The shapes that things take, the manipulation of sounds — it's a learning process for me. I can't do that when I'm just writing on my guitar. Usually, the stuff you like the most wasn't what was planned anyway, so I try not to put too much pressure on it because then the fun leaves."
Read Lee's entire Billboard interview here.
Learn more about Lee at his official website. And get all the details about his show at the Paramount Theatre here.