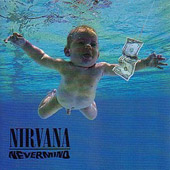 By GENE STOUT
Kurt Cobain was a mess.
Sitting motionless on a tiny stool in a dressing room at the Paramount Theatre on Halloween night in 1991, Nirvana's lead singer held his head in his hands at a backstage "meet and greet."
His blond hair was damp and stringy, and he looked utterly exhausted or stoned – or maybe both. Guests standing in a circle around him seemed wary and fretful.
An hour before, Cobain and band mates Krist Novoselic and Dave Grohl had delivered a blistering homecoming performance after a few weeks on tour.
The raw, intense concert, captured by an MTV camera crew, featured songs from the band's skyrocketing new album, "Nevermind," released the previous month.
The main floor was a mass of moshing, hair-swinging fans, reveling in the sounds of a band that had overturned rock's status quo, rendering hair metal obsolete and ushering in a new era of grunge and alternative rock.
In an explosive finale, Cobain dragged his guitar around the stage like a toy hydroplane before smashing it to bits.
Concertgoers who had been invited to the after-show celebration jammed the stairs leading to separate dressing rooms where band members planned to greet guests.
Intent on congratulating Seattle's new rock star, I approached Cobain and extended my hand. He slowly lifted his head, grinning through a tangle of wet hair, to offer a damp handshake. He said nothing.
It was the only time I would meet him face-to-face. But it provided a snapshot of where Nirvana was headed.
His troubled soul would lead to the band's untimely demise just a few years later. But the music was extraordinarily powerful, setting the rock world on fire.
"Kurt writes great melodies," producer (and Garbage drummer) Butch Vig told me in January 1992 after "Nevermind" had soared to No. 1 on the national charts. "And there's passion, rage, bewilderment in his voice.
"People ask me why this is such a great record. There's so much synthesized music today. There are kids out there that just want some real music."
April 5 is the 20th anniversary of Cobain's death in 1994. On April 10, Nirvana will be inducted into the Rock and Roll Hall of Fame.
Follow this link to Nirvana's official website.