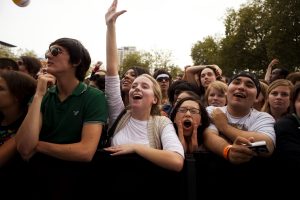 The music lineup for the 40th annual Bumbershoot: Seattle's Music & Arts Festival features Bob Dylan, Mary J. Blige, Weezer, Hole, Rise Against, Neko Case, The Decemberists, J. Cole, Seattle rock band Visqueen and others.
The festival takes place at Seattle Center Labor Day Weekend, Sept. 4 to 6.
Music icon Dylan, a frequent visitor to the Northwest who has even performed at the Puyallup Fair, makes his first appearance at Bumbershoot. The booking has generated a lot of excitement since it was announced in the back pages of Rolling Stone magazine.
Cole, the first artist signed to Jay-Z's Roc Nation label, is also making his first visit to the festival. The lineup has a great deal of diversity, with performers that appeal to a wide array of interests and demographic groups.
"Bumbershoot has a strong history of showcasing emerging talent alongside veteran superstars. This year for our 40th Festival, we're excited to have artists that span more than four decades of phenomenal music," programming director Chris Porter said in a statement.
"With this roster of talent, we're truly offering a music lineup that will engage and entertain people of all ages and interests."
Visqueen has been on a roll since releasing its current album, "Message to Garcia," last year. Read my interview with singer-guitarist Rachel Flotard here.
New this year is the Bumbershoot Standard Ticket, which includes guaranteed access to Mainstage performances. This replaces the previous system of waiting in line upon arrival at the festival for a separate pass.
Bumbershoot Standard Tickets are available in a limited quantity, so patrons anticipating they will want to see Mainstage performers are encouraged to purchase Standard Tickets early to ensure admission to Memorial Stadium.
Bumbershoot also introduces another ticket option, the Bumbershoot Economy Ticket, which allows the ticketholder access to everything at Bumbershoot except the Mainstage performances at Memorial Stadium. The Bumbershoot Economy Ticket is for those who prefer the programming outside Memorial Stadium and throughout the Center grounds.
In addition to the Center Square Stage, Bumbershoot features five auxiliary outdoor music stages, three comedy stages, three performing arts venues, a film festival, visual arts exhibits, Flatstock, spectacle programming in outdoor open spaces, unique crafts, and Youngershoot (a family focused array of programming for kids of all ages).
Additional Bumbershoot 2010 music, literary, comedy, performing arts, visual arts, film and theater performances will be announced in the coming weeks. For up-to-date information and the lineup listed by day, visit the Bumbershoot Web site.
This year, Bumbershoot has increased the age children can attend for free from 5 years and under to 10 years and under. Free kids' admission does not include access to the Mainstage.
Single-day tickets for Bumbershoot 2010 can be purchased Bumbershoot.org and beginning June 4 at Ticketmaster.
The Bumbershoot Standard Ticket ($40 advance/ $50 gate) includes guaranteed Mainstage admission, as well as first-come, first-served access to all other Festival venues.