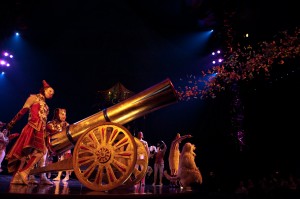 Like the mythical Superman, cast members of Cirque du Soleil's "KOOZA" can perform some pretty amazing feats.
Well, maybe not leap tall buildings in a single bound or move faster than a speeding bullet.
But their repertoire of stunts is really impressive. Such as performing somersaults on stilts, jumping rope on a highwire, juggling six hula hoops at once, or balancing precariously atop a teetering stack of chairs.
And the clowns, led by Ron Campbell ("The King"), are fall-down funny. There's even a big shaggy dog (actually an actor in costume) who does his business on several people with front-row seats — all in fun, of course.
"KOOZA" opened last night (June 2) at the blue-and-yellow Grand Chapiteau (big top) at Marymoor Park in Redmond and continues through July 11 before heading to Vancouver, B.C., for another engagement beginning July 22.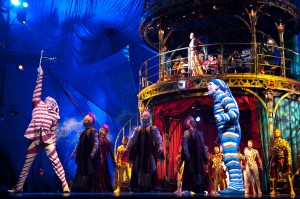 Tickets are available online at the Cirque du Soleil Web site, by phone at 1-800-450-1480 or in person at the on-site box office.
Taking its name from a Sanskrit word for "box," "chest" or "treasure," "KOOZA" combines two great circus traditions: acrobatic performance and the art of clowning. Together, they make for a very entertaining show.
Despite several minor, opening-night flubs, the production was a smooth-running, jaw-dropping three hours of entertainment (with intermission) highlighted by colorful costumes and great musicianship by a band led by Seth Stachowski.
And out in the audience, there are a few surprises too, including a trick chair that . . . well, you just have to see it for yourself.
"KOOZA" (the latest creation of the French-Canadian company that began as a troupe of street performers in 1984) includes nearly a dozen segments featuring contortionists, trapeze artists, "skeleton" dancers, a pickpocket, clowns, jesters and pranksters.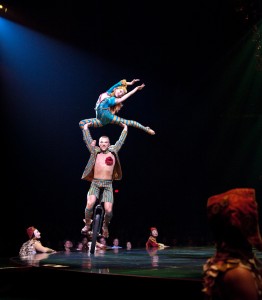 Among the more eye-popping acts is the Wheel of Death, featuring two acrobats who ride a demonic-looking contraption that spins like a giant treadmill. The act features two very talented guys — Columbian acrobats Carlos Marin Loaiza and Jimmy Ibarra — who look like roadies from a death-metal band.
At the center of the production is "The Innocent" (played by Stephan Landry), in impish loner who views the action on stage with childlike wonder. As he comes into contact with such fellow characters as The King, The Trickster (played by Mike Tyus) and the Pickpocket (Christian Lindemann), The Innocent moves through a journey filled with discovery. Unfortunately, that journey doesn't seem to represent much personal growth and in the end, he seems just as innocent as when he began.
No worries. There's plenty of razzle-dazzle to keep the production moving along at a dizzying pace. A trio of costumed female contortionists form human knots, bringing ahhs of amazement from the audience.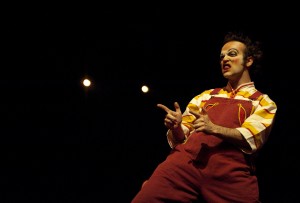 A unicyclist holds his female partner atop his shoulders as he pedals around the stage, tossing and twisting her with incredible skill. Chinese gymnast Zhang Gongli, whose tight-fitting leotards make it look as though he is tattooed from head to foot, constructs a tower of chairs, then gracefully balances atop them on one hand.
The show closes with the teeterboard act, featuring a troupe of a dozen acrobats who flip each other through the air in gravity-defying stunts. It's a crowd-pleasing finale that just can't miss.
Jean-Francois Cote, a self-taught keyboardist and composer who began playing with rock and soul bands at 16, created the music for "KOOZA." Cote combined various musical styles and elements in the score: 1970s funk, full orchestra arrangements, Indian music, and film scores of the 1940s and '50s. The music provides an exciting backdrop for the action on stage.
Throughout the show, various comic characters scramble through the audience or pop through hatches in the stage floor. If you're really unlucky, you'll be coaxed to the stage for a little slapstick comedy that you may never live down.
Read my preview of "KOOZA" (including an interview with band leader Stachowski) here.
The photos accompanying this review were taken by Jim Bennett. Visit his Web site by following this link.