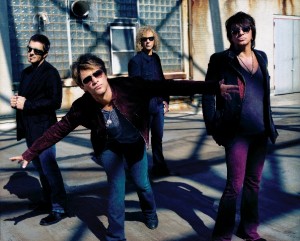 The circle is still unbroken for Bon Jovi, the pop-metal band that made its debut in 1984 with the hit single "Runaway."
Twenty-six years later, Bon Jovi is back on tour with its latest album, "The Circle," a collection of arena-rock anthems that carry on the traditions of this solidly mainstream American band.
Over the last three decades, Bon Jovi has recorded many hits — "You Give Love a Bad Name" and "Livin' on a Prayer" — both of which are featured in the band's current show (see the set list below).
Bon Jovi's "The Circle" tour opened last week in Honolulu, but makes its first stop in the continental U.S. tonight (Feb. 19) at Seattle's KeyArena. A second KeyArena show is Saturday night (Feb. 20). Dashboard Confessional opens both shows.
Tickets to the Seattle shows can still be purchased at Ticketmaster.
As part of his campaign to end homelessness, singer-guitarist and band leader Jon Bongiovi was in Seattle this week to scope out 1811 Eastlake, which provides housing for chronic alcoholics. You can read more about the JBJ Soul Foundation here.
For a perspective on Bon Jovi's first decade — the 1980s — read my review of the band's 1989 show at the Tacoma Dome here.
You can find all the details about the 2010 tour by following this link to the band's Web site.
And click on this link to read a review interview with Bongiovi in Reader's Digest (proving just how mainstream the veteran rock band is today). The band leader talks about Barack Obama, Iran, old age (he's 47) and the group's latest music and tour.
Here's the set list from the first Honolulu show Feb. 11:
1. Blood on Blood
2. We Weren't Born to Follow
3. You Give Love a Bad Name
4. Born to Be My Baby
5. Roulette
6. Shot Through the Heart
7. When We Were Beautiful
8. Whole Lot Of Leavin'
9. Superman Tonight
10. We Got It Goin' On
11. It's My Life
12. Bad Medicine
13. (You Want To) Make A Memory
14. Diamond Ring
15. Bed of Roses
16. Work for the Working Man
17. Have A Nice Day
18. Who Says You Can't Go Home
19. Love's the Only Rule
ENCORE:
20. Tokyo Road
21. Wanted Dead or Alive
22. Livin' on a Prayer
Here's a video of Bon Jovi's recent appearance at the Grammy Awards: