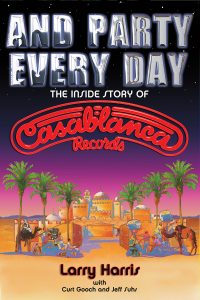 In the 1970s, Casablanca Records became the symbol of music-industry excess.
Founded by the magnetic Neil Bogart (with co-founder and cousin Larry Harris), Casablanca introduced such over-the-top superstars as the fire-breathing KISS and the dance-inducing Donna Summer and the Village People. Fueling the madness of Casablanca's heyday were loads of money, cocaine, weed, booze, sex and Quaaludes.
In the preface to "And Party Every Day: The Inside Story of Casablanca Records" (Backbeat Books), Harris compares the early days of Casablanca to a bunch of crazy people painting a building.
"My boss, my cousin, my mentor — a complete fucking genius named Neil Bogart — was the guy who started us all painting," Harris writes.
" 'Painting the building' was his mantra, his way of saying that if you looked successful, you were successful. Perception was reality. He was right."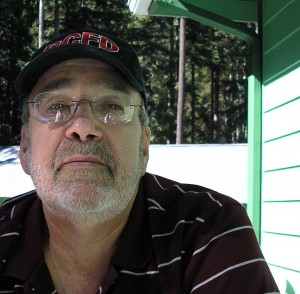 The cover jacket includes a telling quote from Encyclopedia Brittanica:
"Even in the bacchanal of 1970s Los Angeles, the drug and promotional excesses of Casablanca Records stood out. In a period when cocaine use was probably at its peak in the music business, Casablanca set the pace."
"And Party Every Day" is a revealing personal memoir by Harris, a Pacific Northwest resident and former owner of The Improv comedy nightclub in Seattle (now The Showbox at the Market). Harris pulls no punches in his tales of payola scandals, manipulation of the record charts and bleary-eyed decadence.
Harris describes the experience of seeing KISS for the first time in the early '70s, not long before the fledgling label signed the band that would soon rule arenas and launch the Casablanca empire. The performance was held at a small dance studio on 54th Street in Manhattan:
"There was no production at all. None of the trappings of the show that KISS would later make famous were evident — no blood, no fire, no explosions or drums risers, just pure energy and sound. And more sound.
"The volume level in that small room was indescribable. I'd attended more concerts than I could possibly catalog, and loud music was hardly new to me, but KISS's decibel level was so high that standing in the jet intake of the Concorde would have been more restful."
Part of Harris' mission in writing the book was to dispel what he considers misperceptions and errors in the 1990 book "Hit Men: Power Brokers and Fast Money Inside the Music Business," written by Frederic Dannen.
"When the book came out, I compiled a laundry list of the falsehoods it contains," Harris writes. Determined to tell his own story of Casablanca, Harris worked with writers Curt Gooch and Jeff Suhs. The result is a compelling and detailed story of record-label success and excess in an era so different from the modest expectations of today's indie labels and artists.
The book is generously illustrated with photos, many from Harris' personal collection. One shows Harris in a sailor suit, posing with the Village People and their managers. Throughout the book are boxed timelines, providing historic perspective in a tumultuous decade.
When he left Casablanca in 1979, Harris was disillusioned and depressed. Disco was fading, despite the awards the label continued to win at New York City's Disco Forums. And his visionary cousin was changing for the worse.
"Staring at a shining chorus line of trophies on a Manhattan bedspread, I decided it was time to leave," Harris writes.
"The receiver weighed fifty pounds when I picked it up to call Neil and tell him of my decision. . . . Casablanca had been my life for many years, but I wanted to be able to look at myself in the mirror, and going to work frustrated every day was not my style — never was, never will be."
The soundtrack "A Chorus Line," the final album on the original Casablanca Records label," was released in 1985, just over three years after Bogart died of lymphoma.
"Eleven years and 289 albums by over 140 artists," Harris writes. "It was a hell of a ride."
Click here for a historical link to Casablanca Records. To read more about KISS, follow this link. And here's link to Backbeat Books.
EDITOR'S NOTES:
The photo of Neil Bogart above was taken at the infamous Casablanca Records launch party on Feb. 18, 1974, where Bogart introduced KISS to the shell-shocked West Coast music industry (photo: Michael Ochs Archives/Getty Images).
The black & white photo of Larry Harris shows him backstage with Gene Simmons moments before KISS recorded its "Alive!" album in Detroit and May 16, 1975 (photo: Fin Costello/Redferns).
Here's a video of KISS performing in Michigan in 1975: